Lisbon is a city that offers a perfect blend of culture, history and nightlife. Tourists from around the world visit this city every year to experience its vibrant nightlife and socialize with locals. One of the best ways to do this is by taking part in a pub crawl. But with so many options available, it can be overwhelming to choose the right one. To help you out, we have compiled a list of the best pub crawls in Lisbon that offer great drinks, fantastic music, and a chance to meet new people. Whether you are a first-time visitor or a local, these pub crawls will provide you with an unforgettable night out in the city.
The 12 Best Pub Crawls in Lisbon
The 12 Best Pub Crawls in Lisbon
1. Pub Crawl in Lisbon 1 Hour of Unlimited Beer and Sangria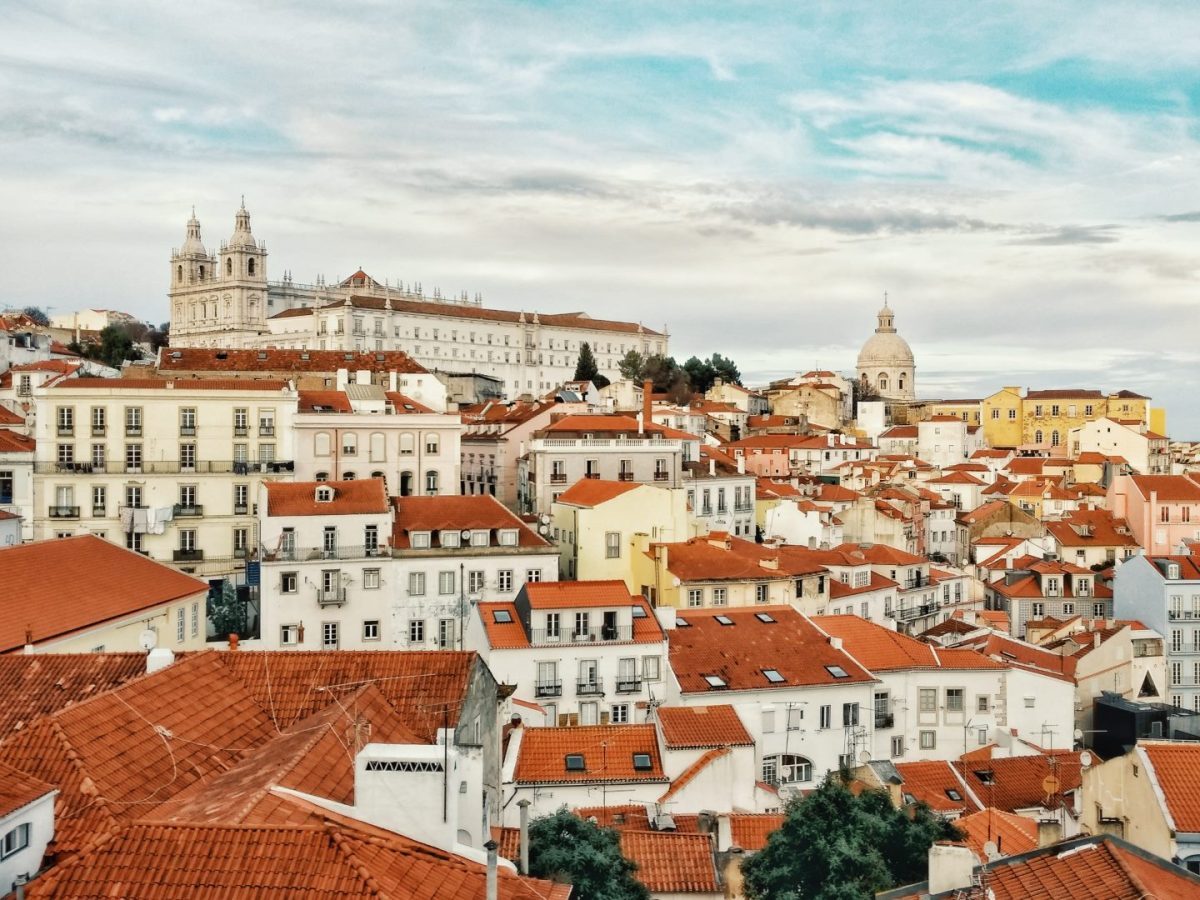 Experience the lively nightlife of Lisbon with this exciting 1-hour pub crawl. Join fellow travelers as you visit 5 different bars in Bairro Alto and The Pink Street. Enjoy unlimited beer and sangria during the entire hour as you socialize and meet new people.

The meeting point is at Miradouro de São Pedro de Alcântara, near the fountain. Look for the group of people around a flag. The pub crawl ends every night in a different club around Cais do Sodre.

Expect to spend 45 minutes in each of the first two bars and 30 minutes in the remaining three bars. Free admission tickets to The Pink Street is included, and additional drinks that are not listed in the description can be purchased.

Please note that confirmation will be received at the time of booking. The tour is not wheelchair accessible, but strollers are allowed. The meeting point is near public transportation and most travelers can participate. The tour/activity will have a maximum of 80 travelers.

Cancellation is possible up to 24 hours in advance for a full refund. Come and join the fun with The Purple Lisbon PubCrawl on this unforgettable evening in Lisbon.
2. Lisbon: Tipsy Tour Fun Bar Crawl with a Local Guide
Looking for an exciting night out in Lisbon? Join the Tipsy Tour Fun Bar Crawl with a local guide! This tour is perfect for meeting other fun-loving travelers and discovering Lisbon's wild nightlife. You'll get to taste delicious popular drinks, like the city's favorite "Ginjinha" and authentic Portuguese cocktails while learning about their fascinating histories. Your guide will take you to some of Lisbon's most vibrant bars and neighborhoods and share the scandalous tales of its most famous names. Don't settle for a standard city tour, join the Lisbon Tipsy Tour for an unforgettable night out!
3. Private Bar Crawl in Lisbon
Explore the best bars in Lisbon on a private bar crawl through Bairro Alto and Cais do Sodre neighborhoods. Your private guide will lead you to several watering holes and provide welcome shots, drink specials and drinking games. Enjoy unlimited beer and sangria for a whole hour at one of the locations. End your night dancing the night away at one of the city's top nightclubs, with entrance included in your package. Upgrade to open whisky, rum and vodka bar, if you desire. Your private tour means you'll get a personalized experience tailored to your taste. Meet your guide at Praça Luís de Camões and get ready for a wild night out!
4. Lisbon Pub Crawl
Join the ultimate Lisbon Pub Crawl for a fun and safe night out with a guide. Start the night at Sunset Destination Hostel and head to Bairro Alto, where you'll play drinking games and meet new people. Next, skip the line at the trendy Pink Street with VIP priority access to one of the hottest nightclubs in Lisbon. Panoramic views await you at the rooftop Zebra Bar, where you can enjoy your designated drinks and soak up the vibe of the city. The tour includes three beers, four shots, and entrance fees to top clubs. Get ready for an unforgettable night out in Lisbon!
5. Lisbon: Drunken History Walking Tour with Included Drinks
The Lisbon Tipsy Tour is a must-attend if you're looking to party and meet other fun travelers. Explore the vibrant nightlife of Lisbon and taste some of its popular drinks. This walking tour takes you to the most twisted but fascinating corners of the city where you will hear the scandalous stories of its famous personalities. The tour starts with a toast and a glass of refreshing wine before moving on to discover some of the most vibrant bars and neighborhoods of Lisbon. Taste authentic Portuguese cocktails and discover the stories behind them. Along the way, your guide will take you to hidden spots that are not known to tourists. Get ready for an unforgettable night!
6. The Lisbon Pub Crawl
Join this exciting pub crawl in Lisbon and explore one of the best nightlife neighborhoods in the city. Your expert local guide will take you to some of the most vibrant and lively bars where you'll enjoy welcome drinks, including sangria and shots. To start off the night, you'll have an hour of unlimited beer and sangria. Lastly, you'll visit a club with VIP entrance included to top off your night. This is your chance to mingle with other party-goers and meet locals while experiencing Lisbon's buzzing nightlife scene. The meeting point is at Praça Luís de Camões, where you'll find your yellow-shirted team near the statue. The activity starts at 10:00 PM and ends back at the meeting point. Come and have a night to remember on this thrilling Lisbon pub crawl experience.
7. Lisbon: Pub and VIP Club Crawl
Discover the nightlife scene of Lisbon with local guides and fellow travelers from around the world with this must-do pub and VIP club crawl. Experience Lisbon's first and biggest pub crawl, visiting 3 clubs and bars throughout the night. Start the night with an hour of unlimited free beer or sangria to get the party started, and enjoy exclusive discounts on cocktails. Meet party-loving travelers from all over the world as you visit different bars with different types of music. The tour includes guides, 2 shots, 1 hour of open bar for beer and sangria, discounts on drinks, skip-the-line in all of the venues, and VIP entry to all the venues, including a local club. Please note that this tour is not suitable for children under 18 years. Book now to experience the best of Lisbon's vibrant nightlife!
8. Lisbon: Boat Party Sunset Sailing Cruise with 2 Drinks
Get the best of Lisbon's beautiful sunset views, party, and drinks on this 4-hour boat party sunset sailing cruise. Enjoy the unique experience of partying on the Tagus River while admiring the stunning views of the city's seven hills, Belém, Terreiro do Paço, Santa Apolónia, Cais de Sodré, and Ribeira das Naus from the comfortable sailing boat. Jumpstart the party, dancing tunes provided by a popular local DJ who'll play a mix of music genres including deep house techno, reggaeton, and popular hits from 7:00 PM to 11:00 PM. Get a complimentary welcome drink upon boarding and an additional long drink as you sail. Need more refreshments? Bring some cash to purchase drinks and delicious snacks onboard. And that's not all, keep the fun going after the cruise with entry to one of the top Lisbon clubs. This boat party sunset sailing cruise is scheduled to take place every Thursday, Friday and Saturday, don't miss out on this memorable adventure.
9. Lisbon: Pub Crawl Tour
Discover the lively nightlife scene of Lisbon with this Pub Crawl tour. Spend an unforgettable evening at Lisbon's top bars, explore the popular neighborhood of Bairro Alto, and mingle with people from around the world. Enjoy a 1-hour open bar with beer and sangria in the second bar and finish off as a V.I.P. guest in a venue prepared for all the groups to join and party together. End the night in one of Lisbon's most popular clubs with skip-the-line access. Choose to add gin and vodka mixers during the power hour to make your experience even more special. With your professional party planner and local guide, trust them to show you a good time and make your night out in Lisbon unforgettable. Join us for a fun and exciting night in one of Europe's hottest destinations!
10. Lisbon Wild Pub Crawl
Get ready to unleash your inner party animal on the Lisbon Wild Pub Crawl! Join a group of fellow night owls and explore three of the liveliest bars in Lisbon with skip-the-line access and exclusive VIP entry. For the first hour, indulge in unlimited beer and sangria at the open bar while getting to know your new friends. At the second bar, enjoy a free long drink, and at the third stop, a shot on the house. Plus, all three bars offer discount tickets for additional drinks. End the night at one of Lisbon's hottest clubs with VIP entry included. With a local guide to show you the ropes, all entrance fees covered and hotel pick-up available, this is the ultimate way to experience the Lisbon nightlife scene. Don't miss out on the party of a lifetime!
11. Lisbon Pub Crawl with Free Drinks
This 3.5-hour pub crawl is a great way to explore Lisbon's nightlife while enjoying free drinks. Meet up with fellow travelers at the Sunset Destination Hostel and head to the Zebra Bar rooftop for some fun drinking games with a stunning view over the Tagus River.

Afterward, visit different bars in Bairro Alto, each with a unique atmosphere and music, where you'll receive 5 free shots and 3 free beers. The evening ends with priority admission to a club on the famous Pink Street.

Please note that the route may vary depending on the group and events in the city. Join us for a fun-filled evening of partying in Lisbon!
12. Pub Crawl Lisbon
Explore Lisbon's renowned Bairro Alto neighborhood with a lively guided pub crawl. Get to know the area's quirky bars and trendy clubs, while enjoying a welcome shot at each of the three Portuguese establishments included in the tour. The tour price also includes a one-hour open bar of beer and sangria, as well as entrance to the nightclub at the final stop. Don't miss out on local tips and cheap cocktail recommendations from your knowledgeable guide. The meeting point is at Praça Luís de Camões at 10:00 PM, where you'll find a yellow umbrella, and the activity ends back at the same spot. Please note that confirmation will be received at the time of booking and this activity is not wheelchair accessible.
Top FAQs About Lisbon Answered
If you're planning a trip to the vibrant, coastal city of Lisbon, then it's natural to have a lot of questions about what to expect, how to plan your trip, and what the city has to offer. Here are the top frequently asked questions by tourists about Lisbon, Portugal, answered.
1. What is the best time of year to visit Lisbon?
The best time to visit Lisbon is in the shoulder seasons of spring (March-May) and autumn (September-November). The weather is mild, the crowds are smaller, and prices are more reasonable. Summers (June-August) can be hot, crowded, and expensive due to the influx of tourists, while winters (December-February) are generally mild but can be rainy.
2. Is Lisbon a safe city?
Lisbon is generally a safe city to visit, with a low crime rate. Of course, tourists should always be aware of their surroundings and take common-sense precautions like not flashing valuables, staying in well-lit areas at night, and being aware of pickpockets in crowded areas.
3. What are the must-see attractions in Lisbon?
There are many must-see attractions in Lisbon. Some of the top ones include:
The historic Alfama district

The iconic Belem Tower

The Jeronimos Monastery

The colorful trams and funiculars

The Castelo de Sao Jorge

The Santa Justa elevator

The Oceanario de Lisboa aquarium
4. How do I get around Lisbon?
Lisbon has an extensive public transportation system that includes buses, trams, the metro, and funiculars. The metro is the fastest and most convenient mode of transport, while the trams offer a more scenic option for exploring the city. Taxis and ride-sharing services like Uber are also widely available.
5. What should I eat in Lisbon?
Lisbon is known for its delicious cuisine, with a focus on fresh seafood, hearty soups, and decadent pastries. Here are some must-try dishes:
Bacalhau (salt cod)

Sardinhas assadas (grilled sardines)

Caldo verde (kale soup)

Pasteis de Nata (custard tarts)

Pao de Deus (sweet bread)
6. Can I visit Lisbon's beaches?
Yes, Lisbon is located along the coast and has several beautiful beaches that are easily accessible. Some of the best beaches near Lisbon include:
Cascais Beach

Guincho Beach

Costa da Caparica Beach

Praia do Meco Beach

Portinho da Arrabida Beach
7. What is the nightlife like in Lisbon?
Lisbon has a vibrant nightlife scene, with options for everyone from casual drinks to all-night parties. Some of the top areas for nightlife in Lisbon include the Bairro Alto, Cais do Sodre, and the Docas area. There are also many rooftop bars and clubs with stunning views of the city.
8. What is the currency in Lisbon?
The currency in Lisbon (and all of Portugal) is the Euro. ATMs are widely available, and most shops and restaurants accept major credit cards.
9. What is the tipping culture in Lisbon?
Tipping in Lisbon is not as common as it is in some other countries. It's generally customary to leave a small rounding up amount of the bill. If you receive exceptional service, you can leave a tip of around 10%, but it's not expected or required.
10. Is it necessary to speak Portuguese in Lisbon?
While it's always appreciated when visitors make an effort to learn a few phrases in the local language, it's not necessary to speak Portuguese in Lisbon. Many locals speak English, and most signs and menus are translated into English. However, it's always helpful to have a basic understanding of Portuguese, especially in more rural or remote areas.In conclusion, Lisbon is a beautiful and fascinating city with much to offer visitors. By knowing the answers to these frequently asked questions, you can better plan your trip and have a memorable experience.
How to Spend Your Time as a Tourist in Lisbon
Lisbon is one of the most beautiful and vibrant cities in Europe. From the historic streets of Alfama to the picturesque beaches of Cascais, there's plenty to see and do in Lisbon. In this guide, we'll show you how to make the most of your time in the city.
1. Explore the Historic Neighborhoods
Lisbon is known for its historic neighborhoods, each with its own unique charm. Some of the most popular neighborhoods to explore include:
a) Alfama
This is the oldest neighborhood in Lisbon and is filled with narrow, winding streets and colorful buildings. Take a walk through Alfama, and you'll get a sense of what Lisbon was like centuries ago.
b) Chiado
If you're looking for a more upscale experience, head to Chiado. This neighborhood is known for its high-end shops, elegant cafes, and beautiful architecture.
c) Bairro Alto
Bairro Alto is the nightlife hub of Lisbon. This neighborhood comes alive at night, with countless bars and clubs to explore.
2. Visit the Iconic Landmarks
Lisbon is filled with iconic landmarks that are worth a visit. Some of the most famous landmarks include:
a) Belem Tower
This tower was built in the early 16th century and has since become a symbol of Lisbon. Visitors can climb to the top of the tower and take in the beautiful views of the surrounding area.
b) Jeronimos Monastery
This beautiful monastery is a UNESCO World Heritage site and is a must-visit for anyone interested in Portuguese history and architecture.
c) Sao Jorge Castle
Perched on a hill overlooking the city, this castle offers incredible views of Lisbon. Visitors can take a tour of the castle and learn about its fascinating history.
3. Relax on the Beaches
While Lisbon may not be known as a beach destination, there are plenty of beautiful beaches just a short drive from the city center. Some of the most popular beaches include:
a) Cascais
This picturesque beach town is just a short train ride from Lisbon and offers beautiful beaches and plenty of shops and restaurants.
b) Costa da Caparica
This long stretch of beach is just a short drive from Lisbon and offers plenty of space to relax and soak up the sun.
c) Guincho Beach
This beach is known for its strong winds and is a popular spot for windsurfing and kite surfing.
4. Try the Local Cuisine
Lisbon is known for its delicious cuisine, with plenty of fresh seafood and hearty stews to try. Some of the most popular dishes to try include:
a) Pasteis de Nata
These custard tarts are a staple of Portuguese cuisine and can be found in bakeries all over the city.
b) Bacalhau
This salt cod dish is a Portuguese classic and is served in restaurants all over Lisbon.
c) Grilled Sardines
Freshly grilled sardines are a summer staple in Lisbon and can be found at markets and restaurants throughout the city.
5. Attend a Fado Show
Fado is a traditional Portuguese music genre that is characterized by its melancholic melodies and poetic lyrics. Attending a fado show is a must-do for anyone visiting Lisbon.
Book Your Tour Now
Lisbon is a city that has something for everyone. Whether you're interested in history, culture, food, or just relaxing on the beach, this city has it all. Use this guide as a starting point for your Lisbon adventure and discover all that this beautiful city has to offer.