Tokyo, the bustling capital city of Japan, is a place that never sleeps. From its vibrant nightlife to its beautiful cherry blossoms and delicious cuisine, Tokyo is a melting pot of culture and entertainment. When it comes to nightlife, however, nothing beats a good old-fashioned pub crawl. Japanese drinking culture is one of the most fascinating and unique experiences in the world. It's no wonder that Tokyo is home to an array of eclectic and exciting pubs, bars, and clubs. In this post, we're going to explore some of the best pub crawls in Tokyo, so grab a drink and let's discover the city's lively nightlife scene.
The 8 Best Pub Crawls in Tokyo
The 8 Best Pub Crawls in Tokyo
1. Tokyo Bar Hopping Night Tour in Shinjuku
This guided tour takes you on a bar hopping adventure through the back-alley bars of Tokyo's Shinjuku district. With the help of a local guide, you'll visit hidden Izakaya bars in two different alleyways. The small-group tour, limited to just eight people, ensures that you can access tiny bars with just a few seats. Between drinks and snacks, which are included in the tour, your guide will share insights into local culture in this atmospheric part of the city. With the guidance of your knowledgeable local guide, you can explore this lively area without fear of committing etiquette mistakes. This tour includes a full dinner with your choice of drinks and food from a menu. Don't miss out on experiencing the vibrant nightlife of Tokyo's Shinjuku district on this unforgettable pub crawl!
2. Low-cost local pub & bar crawling
Join this low-cost local pub & bar crawling and experience the vibrant nightlife of Tokyo. This tour includes an English-speaking guide to translate between you and the pub staff, advise you on how to order your drinks and dinner, especially with Japanese written menus. You'll visit three different bars where you'll sample their drink offerings and gain insights into local pub culture. The first stop is Maruken Suisan where you'll spend 50 minutes enjoying chilled beers and delicious seafood dishes. Next is Marumasu-ya, where you'll spend one hour and twenty minutes sipping on Japanese sake and enjoying their regular karaoke sessions. The final stop is a surprise, and it's sure to be a highlight of the night. All fees and taxes are included in the tour cost, and the tour ends at the meetup point where you previously met your guide. The meeting point is the ticket gate (Higashi-guchi) of the JR Akabane Station East Exit. The tour is not wheelchair accessible, and travelers with heart problems or serious medical conditions should not participate. This tour/activity allows up to 4 travelers, and you can cancel up to 24 hours in advance of the experience for a full refund.
3. Shibuya Bar Hopping Night Food Walking Tour in Tokyo
Explore the vibrant nightlife of Shibuya with a guided bar hopping tour. This night food walking tour takes you to small izakaya-style bars that you'd be unlikely to find alone. Enjoy drinks and local dishes at each location while soaking up the local atmosphere. Your guide will provide tips on where to further explore Shibuya's nightlife. The tour includes four drinks and three dishes or three drinks and four dishes – enough for a full dinner meal. A vegan menu is also available. The meeting point is at Starbucks Coffee, Shibuya Tsutaya, where your guide will be holding an orange board reading MAG. Come and discover the best bars in Shibuya with this exciting tour.
4. Tokyo: Bar Hopping Tour in Shibuya
Your bar hopping tour in Shibuya begins at the famous Shibuya Crossing, known for being the busiest pedestrian crossing in the world. Take in the bustling atmosphere and snap some memorable pictures before heading to your first stop.

Enjoy Japanese beer and grilled delicacies at the first bar, before following your experienced guide down a 'yokocho' (indoor alleyway) where 30 Izakayas are located. These intimate bars are where locals unwind after work, and you'll have reserved seating to enjoy local cuisine and drinks.

The tour will take you to a selection of cool Izakayas where you'll try world-famous Wagyu beef, Sake, and other traditional Japanese dishes. Experience Shibuya's nocturnal culture as you share a table with locals and enjoy the included food and drink.

Discover the hidden food alley of Tokyo's coolest nightlife area and learn about Japanese drinking customs as you join the bustling bar scene. This tour is the perfect opportunity to discover a different side of Tokyo and meet like-minded travelers.
5. Asakusa Local Food and Drink bar hopping Tour
Explore the exciting nightlife of Asakusa with a 3-hour food and drink crawl. This tour takes you to the locals' favorite hangouts, giving you an authentic nocturnal adventure. You'll have the opportunity to interact with Japan's famous 'salary-men' and enjoy craft beer, sake, and a variety of Japanese pub foods. The tour includes one drink per restaurant, food tasting, and a local guide to ensure you have a great time. With this tour, you can enjoy a unique experience and see a different side of Asakusa that's only visible after dark. Book now and join the locals' party.
6. Tokyo Bar-Hopping Tour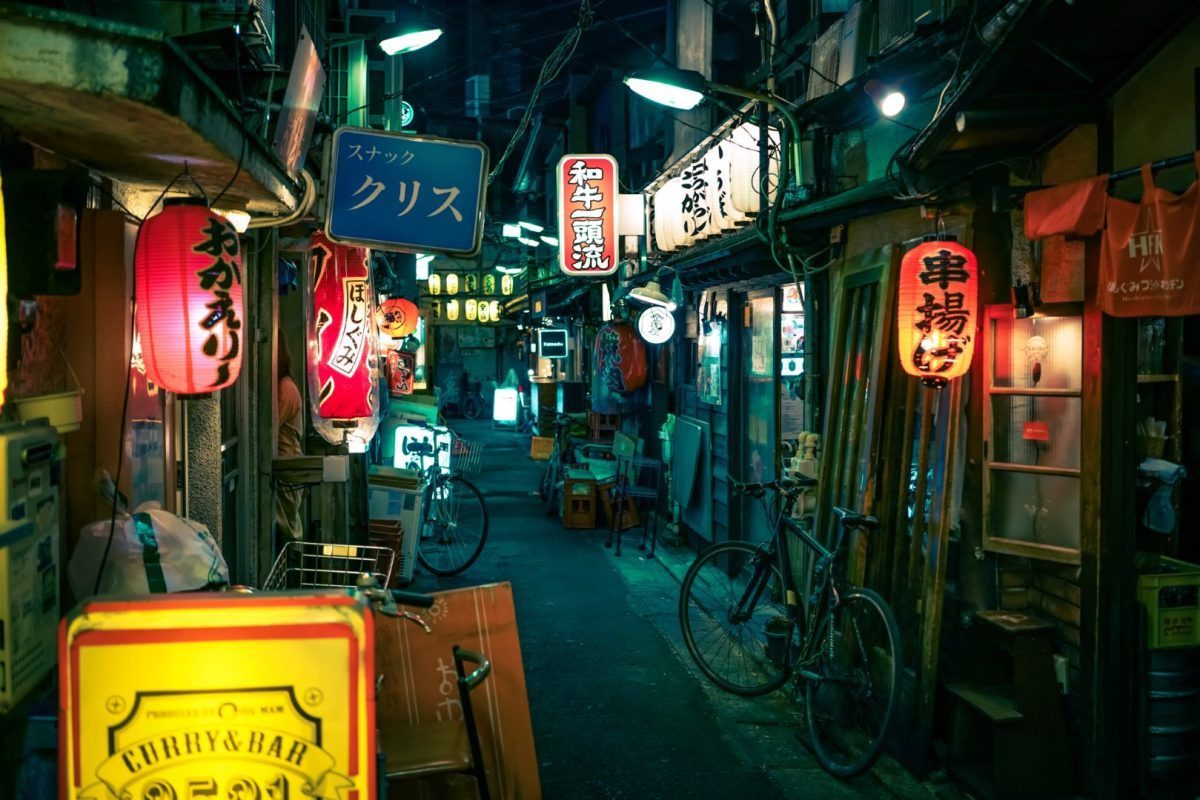 Start your adventure in Shinjuku's Yakitori Alley, one of Tokyo's liveliest nightlife districts, and experience the backstreets of Tokyo that most tourists miss out on. Visit three local izakaya bars with a friendly local guide who will show you some of the best street food Tokyo has to offer, including yakitori (chicken skewers), motsuni (Japanese stew), and grilled vegetables. Enjoy the full bar-hopping experience with food and drinks included, so all you need to bring is yourself. In Kabukicho, stop at two more bars and take in the bright and lively food alleys popular with local office workers drinking in tiny bars with their colleagues after work. This three-hour tour is the perfect way to experience Tokyo's nightlife scene and eat like a local.
7. Tokyo Pub Crawl
Experience the Tokyo nightlife scene by joining a pub crawl with like-minded people. This fun-filled tour takes you to at least three different bars and clubs throughout the night, where you can enjoy generous free shots and drink discounts. You will get the chance to meet awesome people from Japan and around the world, as you dance the night away at one of Tokyo's hottest clubs, always the last stop of the tour. Don't worry about planning the night; a knowledgeable guide will take care of everything for you. Start the night in a relaxed bar or space to get to know each other, with free shots and games to help break the ice. The second bar will have even more music, activities, and shots, while the third bar has a dance floor and space to sit down if you prefer. Finally, end your night at the club, where you can dance and socialize until early morning. Joining a pub crawl is the perfect way to experience Tokyo's nightlife and make new friends.
8. Tokyo: Shinjuku Drinks and Neon Nightlife Tour
Head to Shinjuku for a night of drinks and neon-lit fun on this walking tour. Join a local guide and experience happy hour at a Japanese izakaya-style eatery. Stroll through the popular alleyway filled with food, snacks, and bars while learning about the area's history from your guide. Explore Kabukicho Shinjuku's red light district and its 3,000 shops, bars, and restaurants. End the night by enjoying drinks in one of Golden Gai's cozy bars, which seat only eight people at a time. This carbon-neutral tour is organized and led by an eco-certified tour operator. The tour includes a local guide, assorted skewered snacks, and two drinks (sake, beer, etc.). Additional food and drinks are available for purchase, and tips are appreciated.
Top Frequently Asked Questions about Tokyo
Tokyo is one of the most vibrant, exciting and unique cities in the world. As the cultural, financial and governmental hub of Japan, thousands of tourists flock to the capital city every year to experience its unique blend of ancient traditions and cutting-edge modernity. With so much to see, do and experience in Tokyo, tourists often have a lot of questions about the city before they arrive. In this blog post, we'll answer some of the most frequently asked questions about Tokyo.
1. What is the best way to get around Tokyo?
The best way to get around Tokyo is by train. Tokyo has an extensive network of train lines operated by various companies, including Tokyo Metro and Japan Rail. You can purchase a Suica or Pasmo card which can be used on all trains, buses, and even some taxis. The trains are punctual, clean, and safe. Taxis are also an option, but they are more expensive and can get caught in traffic during rush hour.
2. What is the best time of year to visit Tokyo?
Tokyo has a temperate climate, with mild winters and hot, humid summers. The best time to visit Tokyo is during spring (March to May) when the cherry blossoms are in full bloom or during autumn (September to November) when the foliage turns beautiful colors. The summer months can be uncomfortable due to the heat and humidity, and it is also when they have typhoons. The winter months can be cold but often clear and sunny, perfect for shopping and sightseeing.
3. What is the currency used in Tokyo?
The currency used in Tokyo (and throughout Japan) is the Japanese Yen (¥).
4. Do I need to learn Japanese to travel to Tokyo?
No, you don't need to learn Japanese to travel to Tokyo. While English is not as widely spoken in Tokyo as it is in some other major cities, many signs and menus are written in English, and there are plenty of translation apps available for smartphones. The Japanese people are very friendly and welcoming to tourists, and many will do their best to communicate with you even if they don't speak English fluently.
5. What are some popular tourist attractions in Tokyo?
Tokyo has an incredible variety of tourist attractions. Here are just a few:
The Tokyo Skytree – a 634-meter tall tower with breathtaking views of the city
The Imperial Palace – the residence of the Emperor of Japan
Tsukiji Fish Market – the world's largest and busiest seafood market
Shibuya Crossing – a bustling intersection that attracts millions of visitors every year
Sensō-ji temple – Tokyo's most famous and oldest Buddhist temple
6. What are some cultural customs to be aware of in Tokyo?
Japan has a rich cultural history, and Tokyo has various customs and traditions that visitors should be familiar with before arriving. Here are a few:
Remove your shoes before entering someone's home, some restaurants, and traditional Japanese inns.
Bowing is a common greeting in Japan. A slight bow is considered polite, and a deeper bow is used for apologies or more formal situations.
It's polite to say "arigatou gozaimasu" (thank you very much) or "sumimasen" (excuse me) when interacting with locals.
Disposable chopsticks (called waribashi) made from wood or bamboo are commonly used in restaurants. Don't rub them together as it is considered impolite.
7. What are some traditional Japanese foods to try in Tokyo?
Tokyo has an incredible food scene, with a vast range of traditional and modern cuisine to try. Here are a few popular dishes:
Sushi – raw fish on top of seasoned rice
Soba – buckwheat noodles often served cold with a dipping sauce
Tonkatsu – deep-fried pork cutlet
Okonomiyaki – a savory pancake with various toppings
Ramen – noodles in a savory broth served with meat, egg, and vegetables
8. How do I get to Tokyo from the airport?
Tokyo has two major airports: Narita International Airport (NRT) and Haneda International Airport (HND).
To get from Narita, the easiest way is by the Keisei Skyliner, the Narita Express or the Limousine bus which takes passengers directly to various major hotels. The journey takes around 40-60 minutes and can be bought at the airport or beforehand. To get from Haneda, Tokyo Monorail or the Keikyu Line is the most convenient option.
9. What is the nightlife like in Tokyo?
Tokyo has an exciting and unique nightlife, with something for everyone. Some popular areas include Shinjuku, Shibuya, and Roppongi. Tokyo has thousands of bars and nightclubs, karaoke clubs which are open 24/7, and it is famous for its late-night ramen shops.
10. Is Tokyo safe for tourists?
Yes, Tokyo is considered one of the safest cities in the world for tourists. Japanese people are incredibly respectful, friendly, and law-abiding, which makes crime rates low. However, it is always recommended to take precautions and to protect your belongings, especially in crowded places such as trains.
How to Spend Your Time as a Tourist in Tokyo
If you're planning a trip to Japan, Tokyo is likely on your list of places to visit. Tokyo is Japan's bustling capital city, with a population of over 13 million people, and it's full of fascinating sights, experiences, and activities. Here's how to make the most of your time in Tokyo.
1. Visit the historic temples and shrines
Japan has a rich cultural heritage, and Tokyo is a great place to experience it. You can start by visiting some of Tokyo's many temples and shrines. One of the most famous is Senso-ji in Asakusa. This is the oldest temple in Tokyo, and it's still an active place of worship. You can explore the temple grounds, watch the monks perform their daily rituals, and even try your luck with an omikuji, a sort of fortune-telling paper slip.Another popular destination is Meiji Shrine, located in a forested area in the middle of the city. Dedicated to Emperor Meiji, the shrine is surrounded by beautiful gardens and is a peaceful escape from the hustle and bustle of Tokyo.
2. Explore the traditional neighborhoods
Tokyo has many neighborhoods that still retain a traditional feel. One of these is Yanaka, a charming area that is famous for its old-fashioned streets, temples, and shops. You can also explore the Yanaka Cemetery, which is the final resting place of many famous figures from Japanese history.Another neighborhood to visit is Asakusa, which is famous for its historic streets, food, and traditional crafts. Here you can browse handmade goods, try some delicious street food, and take a rickshaw ride through the streets.
3. Enjoy the vibrant nightlife
Tokyo is known for its lively nightlife, and there are many areas to explore after dark. One of the most famous is Shibuya, which is famous for its neon lights, shopping, and entertainment. Here you can visit clubs, bars, and live music venues, and soak up the energy of this bustling district.Another popular nightlife destination is Shinjuku, which has a reputation as Tokyo's red-light district. However, there's much more to see here, including some of the city's most popular bars and restaurants. You can also visit the Tokyo Metropolitan Government Building, which has a free observation deck with stunning views of the city.
4. Try the local cuisine
Tokyo is a food lover's paradise, with a huge variety of dishes to try. One of the most famous is sushi, and there are many sushi restaurants all over the city. You can also try other Japanese staples such as ramen, udon noodles, and tempura.One unique Tokyo experience is visiting a depachika, which is a food hall located in the basement of a department store. Here you can find fresh food, prepared dishes, sweets, and more.
5. Experience modern Tokyo
While Tokyo is famous for its history and tradition, there's also a modern side to this metropolis. One of the most famous examples of modern architecture is the Tokyo Skytree, which is the tallest tower in Japan. Here you can enjoy stunning views of the city from the observation deck.For a taste of modern Tokyo shopping, head to Ginza. This district is full of luxury stores, boutiques, and designer brands. You can also enjoy some delicious food and drink in one of the area's many chic restaurants and cafes.
Book Your Tour Now
Tokyo is a city of contrasts, with a rich history and a vibrant modern culture. By exploring the temples, neighborhoods, nightlife, cuisine, and architecture, you can experience the best of what Tokyo has to offer. Whether you're a first-time visitor to Japan or a seasoned explorer, Tokyo is a city that is sure to captivate and inspire.
Share This Article with Your Friends
If you found this article helpful, your friends might appreciate it too. Click on any of the social share buttons below to share it with them and spread the knowledge.
The 8 Best Pub Crawls in Tokyo
Experience Adventure Like Never Before: Book Your Tour Today!