Colombo, the vibrant capital city of Sri Lanka, is a popular destination for tourists seeking a perfect blend of cultural immersion and modern amenities. With a rich history dating back to over 2,000 years, Colombo boasts of a plethora of attractions that offer visitors a glimpse into the country's storied past, as well as a window into its present. From bustling marketplaces to ancient temples, and lush green parks to bustling nightlife, there is something for everyone in Colombo. In this post, we'll take a deep dive into some of the best attractions and things to do in Colombo that you simply can't miss during your visit. So pack your bags, grab your camera, and let's explore this fantastic city together.
The 23 Best Guided Tours in Colombo
The 23 Best Guided Tours in Colombo
1. Sigiriya and Dambulla Day Tour
Discover the ancient wonders of Sri Lanka on the Sigiriya and Dambulla Day Tour. Meet your chauffer guide at the Colombo International Airport or at the reception of your hotel and head out on a private air-conditioned vehicle. Enjoy the comfort of bottled water and lunch provided for you during the tour.

The first destination is the Sigiriya Rock Fortress, an ancient marvel of Sri Lanka. Explore the ruins of this UNESCO World Heritage Site and take in the breathtaking view from the top of the rock. Admission ticket is included and the tour lasts for approximately 3 hours.

Next, visit the Dambulla Cave Temple, also known as the Golden Temple of Dambulla. This temple is among the largest cave temples in Sri Lanka and is adorned with ancient murals, Buddha statues, and other cultural artifacts. Admission ticket is included and the tour lasts for approximately 1 hour.

Please note that a moderate physical fitness level is required for this tour. Also, dress smart casual and cover your knees and shoulders when visiting religious places. This tour is not accessible for wheelchairs and neither is it recommended for individuals who rely on public transportation. You will be picked up and dropped off at any location in Colombo, Negombo, and Kandy. Confirmation of your booking will be provided at the time of booking.
2. Best of Sri Lanka in Two Weeks
Discover the best of Sri Lanka's historical and natural wonders with ease on a private 14-day tour from Colombo. With a daily itinerary and private transportation by climate-controlled vehicle, you'll travel in comfort with a private driver-guide to explore sights like Kandy, Sigiriya, and Galle. You'll also have the opportunity to go whitewater rafting, whale-watching, spot wildlife on safaris in Yala and Minneriya, and much more. This tour provides the flexibility to customize your itinerary and excludes hotel accommodation and meals. Private transportation, air-conditioned vehicle, guides in UNESCO world heritage sites, gratuities, and entry fees for all the attractions (client has to purchase) are included. Don't miss the chance to enjoy the best of Sri Lanka on this exclusive tour.
3. 8 Days Private Vehicle With English Speaking Chauffeur
Explore Sri Lanka's top destinations in comfort and style with the 8 Days Private Vehicle With English Speaking Chauffeur tour. With pickup available from all hotels in Colombo, this tour is perfect for those who want to discover the best of Sri Lanka hassle-free.

The tour includes 8 nights accommodation in air-conditioned vehicles, as well as the service of an English-speaking driver cum guide. Entrance fees for all sites and gratuity for the driver and guide are also included.

On day 1, you will be picked up from the airport for a 2-stop tour of Colombo. Day 2 takes you to Sigiriya for an 8-stop tour, followed by a 9-stop tour of Kandy on day 3. Day 4 is a train ride from Kandy to Ella with 2 stops, followed by a 6-stop sightseeing tour of Ella on day 5.

On day 6, you'll visit Yala National Park and Mirrissa/Unawatuna for 2 stops, with a beach break at Mirrissa on day 7 and another beach break on day 8. Finally, on day 9, you'll be taken back to the airport with 2 stops along the way.

Please note that confirmation will be received upon booking and infants must sit on laps. The tour is not wheelchair accessible and children must be accompanied by an adult. Don't forget to bring your Passport or ID card and wear comfortable walking shoes, sunglasses, and a sun hat. Also, avoid wearing strong-scented perfume as animals are sensitive.
4. Private Colombo City Jeep Tour
Cruise through Colombo in style on a private vintage Jeep or Land Rover tour. With a maximum of four passengers per car, you'll have a personalized narration from your private guide as you travel above the traffic and take in the sights. See the National Museum Colombo Town Hall and other key attractions while enjoying 360-degree views of the city. Ideal for first-time visitors, this tour includes hotel pickup and drop-off as well as beverages, so all you need to do is relax and enjoy the ride. Please note that food, drinks, and gratuities are not included. The tour departs from your hotel in Colombo at your chosen departure time of e.
5. 8 Day Sri Lanka Classic Tour
Explore the highlights of Sri Lanka on this 8-day comprehensive tour. With private transportation in an air-conditioned car with a driver-guide, you can relax and enjoy the scenery. Visit top attractions such as Kandy, Galle, and Ella. Take a train ride and a Minneriya safari to see wild elephants. Enjoy half-board accommodations in Budget/Economy, Standard, or Luxury hotel classes. Most entry tickets are included so you can focus on your sightseeing. Lunch, coffee, tea, and alcoholic drinks are available for purchase. Don't miss out on this unforgettable journey through Sri Lanka.
6. Sri Lanka Highlights in 6 Days
Make the most of your time in Sri Lanka with this private custom 6-day tour. You'll start and end your adventure in the bustling city of Colombo, with a private vehicle and driver-guide at your disposal to take you to all the island's highlights. You'll explore the ancient city of Kandy, marvel at the beauty of Galle, spot wildlife in Yala National Park, and witness Koggala's iconic stilt fishermen.

This tour includes budget hotels and most meals, with admissions and safari drives at an additional cost. You'll have the chance to ride a train to Ella and experience the beauty of Sri Lanka's landscapes. Professional guiding at all the sites, driver guide's food and accommodation, gratuities, entry fees for all the sites in the itinerary, and safari jeep are all included in this tour.

Book this private custom 6-day tour and let an expert arrange your sightseeing and all the logistics so that you can sit back and enjoy the best of Sri Lanka.
7. Galle Fort Madu River and Kosgoda Turtle Hatchery Private Day Tour
This private day tour provides an easy and comfortable way to explore Galle Fort and its surroundings. After pickup at your hotel or the airport in Colombo or Negombo, you will be transported in a private air-conditioned vehicle to the UNESCO-listed Galle Fort where you can stroll around and admire the area's colonial architecture. Next, visit Kosgoda's turtle sanctuary or explore the beautiful wetlands around the Madu River, all while having the flexibility to customize your itinerary with your driver-guide. The tour includes bottled water and hotel or airport pickup and drop-off, with food, drink, and gratuities not included.
8. From Colombo Handungoda Galle Ahangama Kosgoda Tour
Spend a day exploring Handungoda Ahangama Galle and Kosgoda in Sri Lanka on a guided tour. The tour starts with a pick-up from your hotel in Colombo, followed by a visit to Handunugoda Tea Factory where you'll watch the tea making process firsthand. This tea factory is famous for creating virgin white tea, a tradition that has been reawakened from ancient Chinese customs.

Afterwards, the tour continues to Ahangama where you'll meet with the famous Sri Lanka stilt fishermen and learn about their unique fishing practices.

Next, head to Galle to sightsee historic monuments and explore picturesque cobblestoned streets. Take in the beauty of the city and explore its hidden gems.

Finally, visit the Kosgoda Turtle Hatchery where you'll have the opportunity to interact with baby turtles and learn about conservation efforts.

This tour is a great way to experience some of the unique cultural and natural attractions Sri Lanka has to offer. Don't forget to bring your packed breakfast if you haven't eaten at the hotel, and sit back and enjoy the ride.
9. Sigiriya and Dambulla Day Tour
Experience two of Sri Lanka's most iconic UNESCO World Heritage sites on this private day trip from Colombo. Your tour starts with a convenient hotel pickup and transport in a private air-conditioned vehicle. First, climb Sigiriya Rock to reach the top and admire the incredible ruins and ancient murals along the way. Then, head to the cave-temples of Dambulla to explore the stunning collection of Buddha statues and images. In addition, enjoy a delicious local curry-and-rice lunch during your day trip. This tour includes admission fees, transportation, a driver-guide, and bottled drinking water while on the tour. Don't miss the chance to experience these two must-see attractions in a single day without any stress on your travels.
10. Private Tuk Tuk Colombo City Tours
Explore Colombo with a private tuk-tuk 3-wheeler, the most iconic mode of transportation in the city. Choose your preferred departure time and tour the attractions of your choice, whether it be temples, markets, or colonial-era buildings. Appreciate the convenience of door-to-door round-trip private transfers, and enjoy the included Ayurveda head or face massage and herbal tea with saffron cake. All taxes, fees, and handling charges are included, and your guide fee is taken care of too. Experience Colombo through the eyes of a local, from the back of your very own tuk-tuk.
11. Adams Peak in 1 Day
Looking to experience one of Sri Lanka's most beautiful natural attractions hassle-free? Look no further than this private adventure tour to Adam's Peak! With luxury transportation included, you'll arrive in comfort and on-time for the midnight hike up the mountain to catch the sunrise. A dedicated guide will lead the way and share their knowledge of the area and its history. All taxes, hotel/port pickup, and gratuities are included in your tour package. Plan for a two-hour stay on the mountain before making your way back to your hotel in a fully air-conditioned vehicle. Book your private tour today and enjoy an unforgettable experience at Adam's Peak!
12. Highlights Tour in Sri Lanka
Explore the highlights of Sri Lanka with this comprehensive 6-day tour. Get picked up from your selected pickup point at 12:00 AM by your in-person guide to start your adventure. On Day 1, visit the ancient Polonnaruwa Kingdom and discover its rich history with 8 stops. On Day 2, climb the impressive Sigiriya Lion rock for breathtaking views. On Day 3, hike to Pidurangal rock and explore the surrounding areas with 2 stops. On Day 4, visit the cultural hub of Kandy with 3 stops. On Day 5, discover the laid-back town of Ella with 2 stops. On Day 6, experience a second day in Ella with 3 stops.

You can expect excellent service with wheelchair and stroller accessibility on this tour. Confirmation will be received at the time of booking and you can cancel up to 24 hours in advance for a full refund. However, if you cancel less than 24 hours before the start time, you will not receive a refund. Make sure to double-check the cut-off times as they are based on the experience's local time.

Join this Sri Lanka highlights tour for an unforgettable journey through the country's top attractions.
13. Shore Excursion Colombo City Tour Highlights
Explore the best of Colombo with a private shore excursion that takes you to the city's top landmarks. With private transportation, you'll avoid crowded tourist spots and won't have to deal with multiple pickups and drop-offs. A private guide will provide commentary tailored to your interests, making for a personalized and informative experience. Highlights of the tour include visits to the National Museum, Gangarama Seema Malakaya, Beire Lake, Jamiul Alfar Mosque, and other cultural landmarks. Stay hydrated with complimentary bottled water throughout the tour. Port pickup and drop-off are included, so all you need to do is meet at the designated location and enjoy the tour.
14. Srilanka Shore Excursion by Genuine Srilankans
Make the most out of your limited time in Colombo by booking a private shore excursion with a guide from Genuine Srilankans. Cover more top Colombo attractions on this stress-free introduction to Sri Lanka's capital that's perfect for first-time visitors. Your itinerary can be customized to include top attractions such as Gangaramaya Temple, Independence Square, and Galle Face Green. You don't have to worry about the language barrier and missing out on local delicacies as your guide will help you with that. You can also enjoy the convenience of getting picked up and dropped off at your hotel or the port. All taxes, fees, and handling charges are included, but alcoholic drinks and gratuities are available for purchase. You can request for pickup or head directly to the meeting point at Co.
15. Sri Lanka Highlights 5n 6d
This 5-night, 6-day tour through Sri Lanka is designed to highlight the most famous sites in the country. All aspects are provided, including private transportation, fuel expressway and parking fees, and professional guides at every UNESCO-listed site. Your accommodations and meals are also included.

On the first day, you'll travel from the airport or Negombo to Habarana, a journey of 152 kilometers that should take around 3 hours and 40 minutes with one stop. The next day you will visit the Polonnaruwa ruins and enjoy a private jeep safari in Minneriya National Park.

On the third day, you will cover 110 kilometers in 2 hours and 45 minutes from Habarana to Kandy, where you will stop at 4 locations. Day 4 cover a 140-kilometer stretch from Kandy to Nuwaraeliya before continuing to Ella, stopping at 4 locations along the way.

Day 5 takes you from Ella to Yala, a 95-kilometer journey that should take approximately 2 hours and 35 minutes with 4 stops. Finally, on the 6th day, you will travel from Yala to Galle to Colombo, a 303-kilometer journey taking about 4.5 hours, stopping at 3 locations along the way.

Please provide your mobile number or hotel phone number for pickup when booking. Entry fees to all the mentioned sites and safari parks are included, and you will receive confirmation upon booking.
16. Galle City Tour Private Day Tour from Colombo Negombo
Explore the historic city of Galle on a private day tour from Colombo or Negombo. Hop into an air-conditioned vehicle and embark on a scenic journey to Galle, where you'll see the famed Galle Fort and experience the beautiful Madu River.

Your tour includes admission tickets to both Galle Fort and Madu River, as well as bottled water and private transportation. You can choose to meet at the designated meeting point or request a pickup from your hotel in Colombo or Negombo, or even the Bandaranaike International Airport.

Please note that this tour may not be suitable for wheelchair users, those with back problems, or pregnant travelers. Confirmation will be received at the time of booking, and cancellations made up to 24 hours in advance will receive a full refund.

Discover the best of Galle on this private day tour, and create lasting memories on your Sri Lankan adventure.
17. Private Cycling Tour Discover Colombo by Cycle in the Morning
Explore Colombo's top attractions in a unique way with this private cycling tour. With an English-speaking guide, enjoy cycling through the city's wide, flat avenues and refreshing sea breezes. You will visit some of Colombo's prettiest attractions such as the Galle Face Green, Arcade Independence Square and the Town Hall, with plenty of time to stop and take photos along the way. The tour starts at 07:30 AM, which allows you to beat the heat of the day. Helmets, safety glasses and reflective jackets will be provided for your safety and comfort. Transportation to and from the meeting point is not included, but it is conveniently located at D.S. Senanayake Statue. Join this group tour and get ready for an unforgettable experience.
18. The Pick of Sri Lanka
Explore the beauty of Sri Lanka with the Pick of Sri Lanka tour package. This 6-day adventure includes visits to top attractions such as Pinnawala Elephant Orphanage, Dambulla Cave Temple, Sigiriya Rock Fortress, Polonnaruwa city, Matale Spice Garden, Royal Botanical Gardens in Peradeniya, and a tea plantation in Nuwara Eliya.

On the first day, you will be welcomed by a meet and greet service upon your arrival at Bandaranaike International Airport in Colombo. Then, you will start your journey towards Sigiriya via Pinnawala Elephant Orphanage and Dambulla Cave Temple. On the third day, you will visit Polonnaruwa city, another UNESCO world heritage site, before returning to the Sigiriya region for the night.

During the fourth day, you will travel to Kandy city via a scenic route, where you will visit the famous Temple of Tooth Relic, also known as Sri Dalada Maligawa. You will also have the opportunity to visit the Matale Spice Garden and the Royal Botanical Gardens in Peradeniya, before settling in Kandy for the night.

On the fifth day, you will explore the city of Kandy at your own pace, where you can visit the local market and immerse yourself in the vibrant culture. The final day will take you to a beautiful tea plantation in Nuwara Eliya, where you will witness the process of tea-making and taste some of the best tea in the world.

With air-conditioned transportation and airport transfers, this tour package provides comfort and convenience throughout your journey. Entrance fees for all sights and attractions are included, but meals and personal expenses are at your own expense.
19. Shore Excursion Colombo City Tour
Explore the vibrant city of Colombo on a shore excursion. The tour includes pickup and drop-off from selected points, and all taxes, fuel surcharge, local taxes, gratuities, food, and drinks. During the tour, you will visit some of the top attractions, including museums, temples, markets, and colonial buildings. The tour is wheelchair accessible, with surfaces that are easily navigable. Infants may sit on laps throughout the tour, and cruise ship passengers must provide their ship name, docking time, disembarkation time, and re-boarding time at the time of booking. The experience is non-refundable and cannot be amended. Confirmation will be provided upon booking. Join us for a memorable Colombo city tour.
20. Half Day Colombo City Tour for Cruise Ship Passengers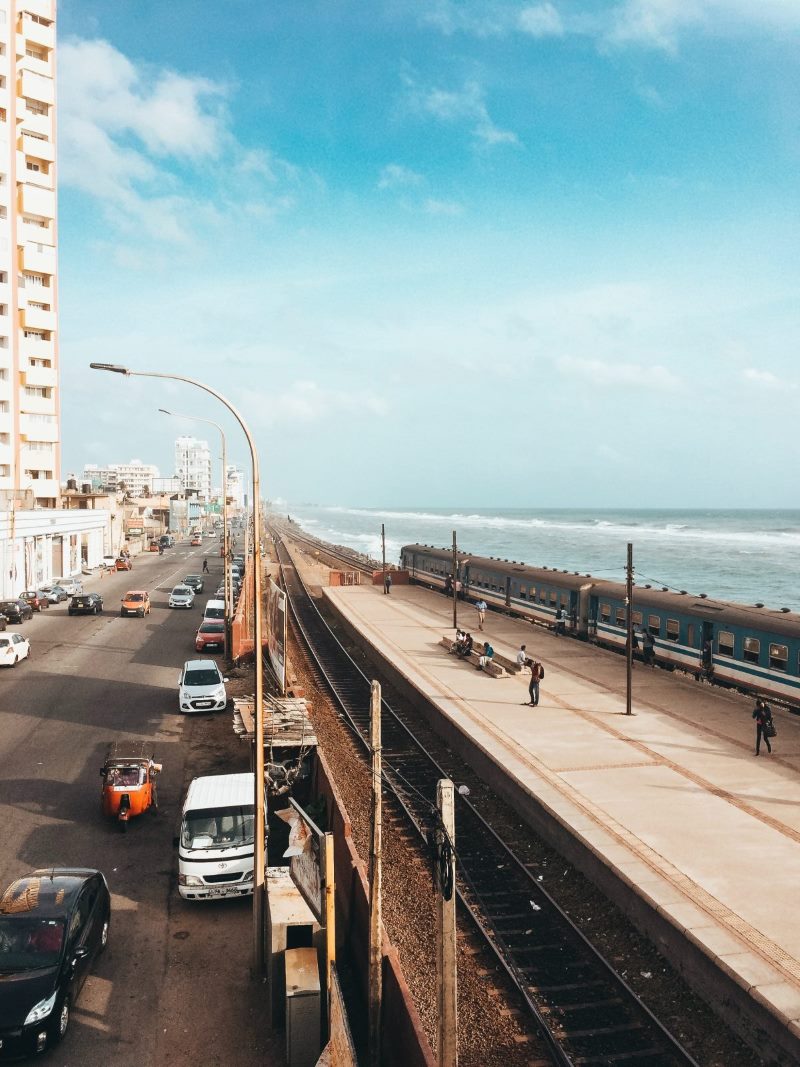 Colombo, the capital of Sri Lanka, is rich in history and culture, and offers many attractions worth exploring. This private half-day tour makes it easy for cruise ship passengers to discover the city's highlights with a guide to lead the way. You'll visit top tourist spots like the Old Parliament, the Lighthouse Clock Tower, and the Ganarayama Seema Malakaya temple on Lake Beira. In the colorful Pettah neighborhood, you'll delve into open-air bazaars and learn about everyday life in Colombo. This tour is ideal for those who want to avoid the hassle of navigating the city on their own, and offers the convenience of port pickup and drop-off and air-conditioned transport. The group size is limited to 15 people for a more personalized experience.
21. Private Kandy Day Tour With Pinnawala from Colombo
This private full-day tour offers the chance to visit Kandy, Sri Lanka's hill capital, and the Pinnawala Elephant Orphanage from Colombo without the hassle of public transportation. Discover the UNESCO-listed Temple of the Sacred Tooth, explore the Peradeniya Royal Botanical Gardens, take a stroll around Kandy Lake, and witness the adorable elephants at the Pinnawala Elephant Orphanage. This private tour comes with a driver-guide, air-conditioned vehicle and entrance fees included, allowing for a smooth and easy experience. Hotel transfers and gratuity for the driver and guide are also covered. Book this tour and enjoy a day filled with unforgettable memories.
22. 4 Hours Colombo City Tour
Colombo, once called the "garden city of the East," offers a variety of sights, from resort-like beaches to historic colonial architecture, national history museums, and Buddhist temples. This 4-hour private tour is ideal for first-time visitors who want to get quickly oriented to the city. It includes pickup and drop-off at your hotel or other preferred meeting point, transportation in an air-conditioned vehicle, and a visit to top sights and unconventional attractions designed to help you discover how locals live. You'll even have the option to take a meal break near Beira Lake. Whether you're interested in culture, history, or just seeing the sights, this tour is sure to give you a great introduction to Colombo.
23. City Tour Colombo
Discover the best of Colombo's star attractions with a private driver/guide on this door-to-door, round-trip guided tour. Avoid the city's hectic traffic and see the historic Buddhist temples of Kelaniya Raja Maha Viharaya and Gangaramaya, admire the grand architecture of the Old Parliament Building and Independence Memorial Hall, and soak up the atmosphere at waterfront Galle Face. Upgrade your tour to include a shopping tour of top bazaars and markets. All taxes, fees, fuel surcharge, and local taxes are included. You can head directly to your preferred meeting point or request pickup. Select your meeting or pickup point when booking.
The Ultimate Guide to Colombo: Answering the Most Frequently Asked Questions by Tourists
Colombo, the commercial capital of Sri Lanka, is a vibrant city that offers a blend of cultures, history, and modernization. For tourists planning to visit Colombo, there may be many questions buzzing in their minds. In this post, we aim to answer the most commonly asked questions to ensure you have the best possible experience in Colombo.
1. What is the best time to visit Colombo?
The best time to visit Colombo is from November to April, which is the dry season. However, if you want to avoid crowds and enjoy lower prices, you can plan your visit during the off-season. But keep in mind that the weather may not be as pleasant, and there could be occasional downpours.
2. What is the currency of Sri Lanka?
The currency of Sri Lanka is Sri Lankan Rupee (LKR). ATMs are easily accessible throughout the city, and most establishments accept credit cards. However, it's always advisable to keep some cash handy.
3. What are the must-visit places in Colombo?
Colombo has plenty to offer to tourists. The must-visit places include:
The Colombo National Museum

The Gangaramaya Temple

The Beira Lake

The Dutch Hospital Shopping Precinct

The Galle Face Green Promenade

The Viharamahadevi Park

The Kelaniya Raja Maha Vihara
4. How can I get around Colombo?
Getting around in Colombo is easy with various transport options available. You can choose to take a tuk-tuk, a taxi, or a hired car. Public transport is also available in the form of buses and trains. However, these options can be crowded and may not always be punctual.
5. What is the official language spoken in Colombo?
The official language spoken in Colombo is Sinhalese. However, English is widely spoken and understood, especially in the tourist areas.
6. What are the local customs and traditions to keep in mind while visiting Colombo?
Sri Lanka has a rich culture and traditions. While visiting Colombo, it's advisable to dress modestly and remove shoes when entering temples and other religious places. It's also recommended to greet locals with "Ayubowan," which means "may you live a long life."
7. What is the food like in Colombo?
Colombo serves a range of cuisines that cater to every palate, from local delicacies to international dishes. Don't miss trying out the street food, which is both affordable and delicious. Some of the must-try dishes include Kottu Roti, Hoppers, and String Hoppers.
8. Is Colombo a safe city for tourists?
Colombo is generally a safe city for tourists. However, like any other city, it's recommended to take certain precautions such as avoiding deserted areas at night and not carrying large amounts of cash.
9. What are the tipping customs in Colombo?
Tipping is not mandatory but is appreciated in Colombo. It's customary to tip around 10% in restaurants and to tip your tour guides and drivers at your discretion.
10. What are the best shopping destinations in Colombo?
Colombo has plenty of shopping destinations to satisfy your retail cravings. Some of the must-visit shopping spots include:
The Pettah Market

The ODEL Shopping Mall

The House of Fashion

The Arcade Independence Square

The Barefoot Gallery and Cafe
How to Spend Your Time as a Tourist in ColomboColombo, the commercial capital and largest city of Sri Lanka, offers a vibrant and colorful experience for tourists. The city is a blend of modern and traditional culture, with an abundance of historic sites, delicious food, and shopping opportunities. If you are planning a trip to Colombo, here are some things to do and see in the city.1. Visit Gangaramaya TempleGangaramaya Temple is one of the most famous temples in Colombo. The temple has a history of over 120 years and features a unique blend of Sri Lankan, Thai, Indian, and Chinese architecture. The temple is home to a museum, library, and exhibition hall and has a peaceful ambiance. Visitors can enjoy a boat ride on the Beira Lake adjacent to the temple.How to Get ThereYou can get to Gangaramaya Temple by taxi or tuk-tuk. The temple is located in the heart of Colombo and is easily accessible from most parts of the city.2. Relax at Galle Face GreenGalle Face Green is a popular promenade for locals and tourists alike. The green stretches for 5 hectares along the coast and offers a stunning view of the Indian Ocean. Galle Face Green is a great spot to relax and watch the sunset. You can also sample local street food and drinks from the vendors.How to Get ThereGalle Face Green can be reached by taxi, tuk-tuk or bus. The green is located in the heart of Colombo and is easily accessible from most parts of the city.3. Explore the National Museum of ColomboThe National Museum of Colombo is the largest museum in Sri Lanka and has a collection of over 100,000 objects relating to the country's history, arts, and culture. The museum is housed in a colonial-era building and has exhibits ranging from ancient paintings to medieval weapons.How to Get ThereThe National Museum of Colombo is located in Cinnamon Gardens and can be reached by taxi, tuk-tuk or bus. The museum is easily accessible from most parts of the city.4. Shop at Pettah MarketPettah Market is a bustling bazaar in the heart of Colombo. The market has a range of shops selling everything from clothes to spices, and electronics to jewelry. Pettah Market is a great place to haggle for bargains and sample local street food.How to Get TherePettah Market can be reached by taxi, tuk-tuk or bus. The market is located in the heart of Colombo and is easily accessible from most parts of the city.5. Visit Viharamahadevi ParkViharamahadevi Park is a popular park in Colombo named after Queen Viharamahadevi. The park features a Buddha statue, a mini zoo, and a children's play area. The park is a great spot for picnics, jogging or just relaxing.How to Get ThereViharamahadevi Park is located in the heart of Colombo and can be reached by taxi, tuk-tuk, or bus. The park is easily accessible from most parts of the city.6. Taste Local CuisineSri Lankan cuisine is a blend of Indian, Chinese, and European influences. The dishes are spicy, flavorful, and unique. You can find local cuisine in restaurants, street food stalls, and markets.Some of the Must-Try Dishes are:

Hoppers: A crispy pancake served with curry, chutney, and sambal

Kottu Roti: A spicy stir-fry of vegetables, meat, and roti bread

Rice and Curry: A staple dish of Sri Lanka, featuring spicy curries served with rice and side dishes

Lamprais: A Dutch-inspired dish of rice, meat, and vegetables wrapped in banana leaves and baked.

Book Your Tour NowColombo offers a culturally rich and diverse experience for tourists. With its blend of historic sites, delicious food, and shopping opportunities, you can be sure to have a memorable trip. Whether you want to relax on the beach, explore temples or taste local cuisine, Colombo has something for everyone.