Welcome to Belgrade, the capital city of Serbia and home to some of the most eclectic and vibrant nightlife in Europe. If you're looking to experience the best that the city's bar scene has to offer, then pub crawls are the way to go! But with so many options available, how do you know which ones to choose? In this post, we'll be exploring the four absolute best pub crawls in Belgrade – from hostel-run crawls to local-led tours, we've got you covered. So grab a drink, get ready to explore the city's most happening bars, and let's dive right in!
The 4 Best Pub Crawls in Belgrade
The 4 Best Pub Crawls in Belgrade
1. Belgrade: Pub Crawl with Drinks
Discover the famous Belgrade nightlife on this fun 5-hour pub crawl with an awesome party crew. Your hosts will guide you through the streets of Belgrade to 5 different bars and clubs where you will benefit from free entrance and a complimentary welcome shot or drink at each venue.
In addition to partying, this crawl is an opportunity to meet cool new people to hang out with. A photographer will also tag along all night to capture unique memories for you. This is more than just a pub crawl — this is a night out you will never forget.
This package includes 4 shots, 1 drink (Beer or Wine), entry to all bars & clubs, fun games and challenges during the tour, and coat check fees. Additional drinks are not included.
Please note that this tour is not suitable for children under 18 years old. Join the crawl for a great night out and memories that last a lifetime.
2. Belgrade Nightlife Bar Pub Club Crawl (by Belgrade Nightlife Tours)
Looking for a fun night out in Belgrade? Look no further than this nightlife bar pub club crawl! Join a small group of fellow partygoers and explore some of the hottest pubs, bars, and clubs in the city. With free drinks, free entry, and priority admission to every venue, all you need to do is focus on having a good time. Get to know your fellow revelers with party games and take home memories of the night with photos taken by a photographer. You'll also get insider information on after-parties in Belgrade from your host. A small group size means you'll get more attention from your guide, ensuring a personalized experience. This tour is perfect for solo travelers, couples, and groups of friends who want to see the best of Belgrade's nightlife scene.
3. Columbo Pub Crawl Belgrade
Looking for a fun night out in Belgrade? Join a small group of partygoers and visit some of the city's top bars on this exciting pub crawl. You'll start the night at the first location with unlimited drinks to get you warmed up for the night, followed by free shots at the following venues. Your final destination is a club where you get free entry and can party the night away. The tour includes free welcome shots in every bar and glow paint to help you get ready for the night. This is a great option for solo travelers, couples, and small groups. With a small group, you'll receive more attention from your guide. The tour is available on Thursday through Saturday evenings and starts at 9:00 PM. Confirmation will be received at the time of booking, and the tour is wheelchair accessible and near public transportation. Infant seats are available, and most travelers can participate. Don't miss out on this fun-filled night out in Belgrade.
4. Belgrade Pub Crawl ( by Belgrade Nightlife Tours )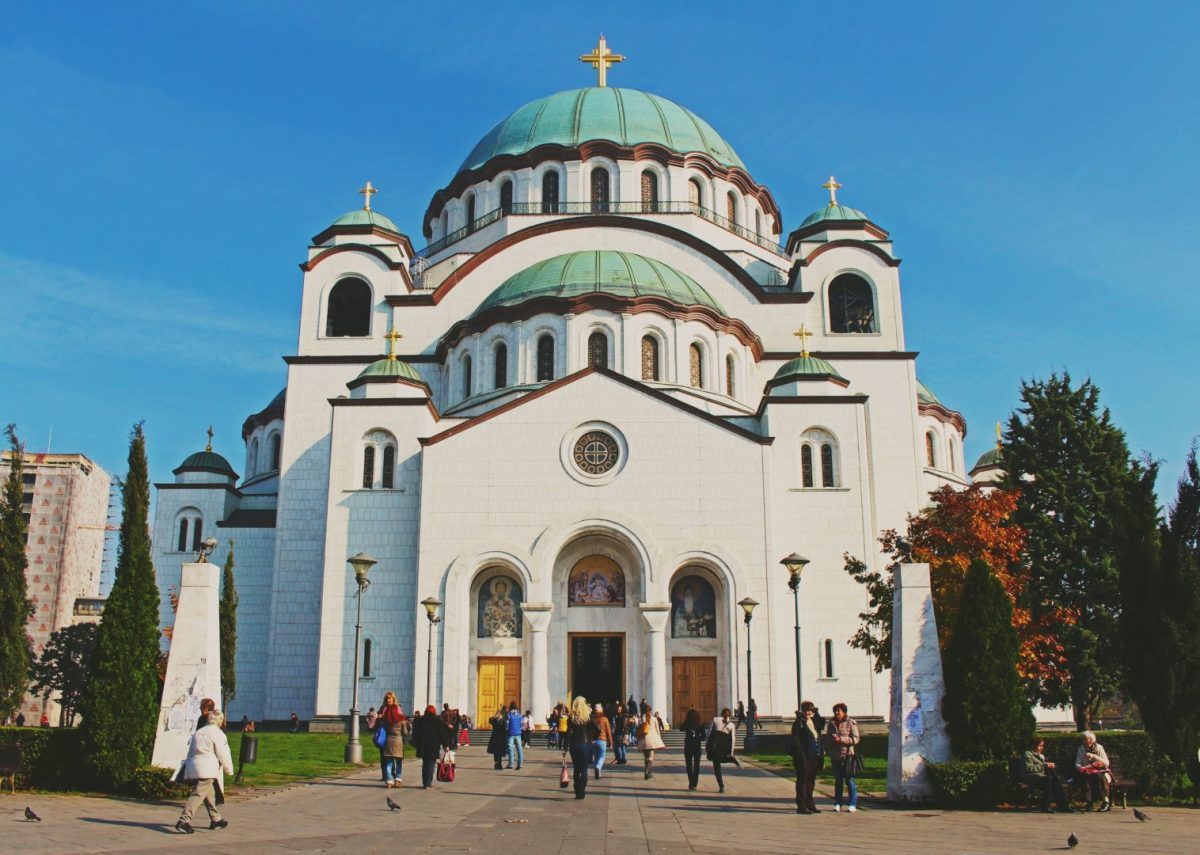 Party like a true local on this small-group pub crawl in Belgrade. This is a perfect opportunity to meet fellow travelers, experience Belgrade nightlife like a local, and avoid tourist traps. Throughout the evening, you'll visit seven of the city's most popular bars and clubs, where you'll enjoy five complimentary drinks. With a maximum group size of fifteen people, you won't risk getting lost or separated from the group. The tour includes special discounts at different venues, hassle-free and stress-free service and a coat drop off. The meeting point will be Jovan Cvijić's House, located in the center of Belgrade in front of the statue of Jovan Cvijić in the middle of "Studentski Park." The tour ends in Savamala, at the final club. Don't miss this chance to enjoy the Belgrade nightlife experience with us!
The Most Frequently Asked Questions About Belgrade
Belgrade is the capital city of Serbia, situated at the confluence of the Sava and Danube rivers. This vibrant city is one of the oldest in Europe, with a rich history, vibrant culture, and plenty of attractions to cater for all interests. However, before you embark on a trip to Belgrade, there are questions you may have regarding the city. Here is a list of the most frequently asked questions about Belgrade.
1. What is the best time to visit Belgrade?
The best time to visit Belgrade is during the summer months of June, July and August. The city experiences a warm Mediterranean climate with hot summers and mild winters, making it perfect for outdoor activities. During these months, the city hosts numerous festivals and events, such as the Belgrade Beer Fest, Belgrade Summer Festival, and Belgrade International Film Festival.
2. How do I get to Belgrade?
Belgrade has an international airport, the Nikola Tesla Airport, which serves numerous airlines including low-cost carriers such as Ryanair and Wizz Air. You can also get to Belgrade by train, bus or car from various cities within Serbia and neighboring countries such as Hungary, Croatia and Bulgaria.
3. Is Belgrade a safe city?
Belgrade is generally a safe city to visit, with low levels of violent crime. As with any other city in the world, it's important to be aware of your surroundings, especially in areas with large crowds, such as the central bus station and train station. Petty crime, such as pickpocketing, can occur in tourist areas, so it's important to keep an eye on your belongings.
4. What currency is used in Belgrade?
The official currency of Serbia is the Serbian dinar, indicated by the symbol "RSD". It's important to note that some places in Belgrade may only accept cash, so it's a good idea to have some dinars with you. There are numerous exchange offices located in the city, and ATMs are widely available.
5. What language is spoken in Belgrade?
Serbian is the official language of Belgrade, but English is widely spoken and understood, especially in tourist areas. You can also find people who speak German, French and Spanish.
6. What are the must-see attractions in Belgrade?
Belgrade is home to numerous attractions, including the Kalemegdan Fortress, Skadarlija street, Saint Sava Cathedral, and the National Museum. If you love nature, you can visit the Ada Ciganlija recreational area, which is a popular destination for swimming, biking, and jogging. You can also take a walk along the Sava river promenade, or visit the Zoo, which boasts of over 150 animal species.
7. Are there any cultural events in Belgrade?
Belgrade is known for its numerous festivals, such as the Belgrade Beer Fest, Belgrade Summer Festival, and Belgrade International Film Festival. These events are spread throughout the year, so if you're interested in attending a cultural event, it's best to check the event calendars of the city.
8. What is the nightlife like in Belgrade?
Belgrade has a vibrant nightlife scene, with numerous bars, clubs, and restaurants to cater for all tastes. Some popular areas for nightlife include Savamala, Skadarlija, and Ada Ciganlija. It's important to note that most clubs and bars have a dress code, so it's important to dress appropriately.
9. What should I eat in Belgrade?
Belgrade is known for its traditional Serbian cuisine, which is a mix of Balkan, Mediterranean, and Oriental influences. Must-try dishes include cevapi, pljeskavica, and sarma. You can find these dishes in numerous restaurants and traditional Serbian kafanas.
10. What souvenirs should I purchase from Belgrade?
Belgrade has a vibrant arts and crafts scene, with numerous street markets and souvenir shops to choose from. Popular souvenirs include handmade ceramics, jewelry, and textiles. You can also purchase traditional Serbian products such as rakija (fruit brandy), ajvar (a type of relish), and kajmak (a type of cheese).
Conclusion
Belgrade is a must-visit destination for anyone looking to experience a unique blend of culture, history, and entertainment. We hope this guide has answered some of the most frequently asked questions about the city, and provided you with some insights into what to expect when you visit. Remember to take some time to explore the winding street of Skadarlija, witness the impressive fortress of Kalemegdan, and enjoy the vibrant nightlife that Belgrade has to offer. Happy traveling!
The 4 Best Pub Crawls in Belgrade: Your Ultimate Guide
As one of Europe's liveliest cities, Belgrade offers a vibrant nightlife that attracts people from all over the world. With so many bars and clubs to explore, a pub crawl is the perfect way to experience Belgrade's buzzing nightlife scene. From traditional Serbian watering holes to trendy international bars, here are the 4 best pub crawls in Belgrade that you don't want to miss.
1. Bohemian Quarter Pub Crawl
The Bohemian Quarter is one of Belgrade's oldest and most charming neighborhoods, with narrow cobblestone streets, bohemian-style cafes, and excellent traditional restaurants. The pub crawl starts at Skadarlija, one of the most popular streets in the neighborhood, home to many restaurants and cafes. You will have the chance to taste traditional Serbian dishes and drinks, such as rakija (a fruit brandy), while enjoying live music performances.
Next stop is the ?ur?evi?a Tara? tavern, a lively place with a warm and cozy atmosphere, perfect for chatting with locals and experiencing the Serbian way of life. The pub crawl ends at one of the best clubs in the city, Brankow, where you can dance the night away to the latest tunes and enjoy excellent cocktails.
2. Nightlife Heaven Pub Crawl
If you want to discover the best of Belgrade's nightlife, then the Nightlife Heaven pub crawl is perfect for you. The pub crawl starts in the center of the city, at Republic Square, and takes you on a journey through some of the city's most popular bars and clubs. You'll experience the glitz and glam of the city's party scene, with a chance to sip on high-end cocktails and rub shoulders with Belgrade's social elite.
Some of the must-visit places on the Nightlife Heaven pub crawl include the Hype Club, one of the hottest clubs in the city, with its posh atmosphere and VIP areas, as well as the Kafana ?e?ma, one of the oldest and most popular bars in Belgrade, with a live music program that includes a mix of traditional Serbian and international music.
3. Craft Beer Pub Crawl
Belgrade's craft beer scene has blossomed in recent years, with many local breweries popping up around the city. If you're a beer lover, then the Craft Beer pub crawl should definitely be on your list. The pub crawl begins in the Dor?ol neighborhood, at the ?ir Dunbar brewery, where you can taste some of the best craft beers in the city, accompanied by delicious snacks.
Next up is the Kabinet brewery, where you can sample a variety of beers made with traditional Serbian ingredients. The pub crawl ends at the Bajloni brewery, which boasts a spacious outdoor terrace and a selection of beers that are brewed on site.
4. Historic Belgrade Pub Crawl
Belgrade is a city steeped in history, with many architectural and cultural landmarks that are worth exploring. The Historic Belgrade pub crawl takes you on a journey through Belgrade's past, with stops at some of the city's most iconic bars and restaurants.
The pub crawl starts at the ?ika Monument, a statue of one of the most famous Serbian revolutionaries, and then takes you to the ?ir Dunbar brewery, where you can enjoy a refreshing beer while learning about the brewing process. Next, you'll visit the Tri Sesira restaurant, one of Belgrade's oldest and most storied restaurants, with a warm and welcoming atmosphere and excellent traditional Serbian cuisine.
Finally, the pub crawl ends at the ?u?ur club, one of the city's most famous nightclubs, located in a former bomb shelter from the Cold War era, with a legendary sound system and a lineup of top DJs that will keep you dancing until dawn.
Conclusion
Whether you're looking for a quiet evening sipping on traditional Serbian drinks or a wild night out partying with the city's socialites, Belgrade offers something for everyone. The 4 pub crawls mentioned here are just a taste of what this vibrant city has to offer in terms of nightlife, so don't hesitate to explore and discover your own favorites. Remember to drink responsibly and have fun!
Share This Article with Your Friends
If you found this article helpful, your friends might appreciate it too. Click on any of the social share buttons below to share it with them and spread the knowledge.