Looking to have a good time in Istanbul? Why not explore the city's vibrant nightlife by joining a bar crawl? The city is home to many pubs serving up delicious drinks, live music, and a great atmosphere that will make your night unforgettable. In this post, we'll be rounding up the five best pub crawls in Istanbul, giving you an inside look at the best bars to visit and the best routes to take. Whether you're a local or a tourist, these pub crawls offer an exciting way to experience Istanbul's energetic nightlife scene. So, grab your friends, put on your party shoes, and get ready to have a blast as we dive into the top pub crawls in Istanbul.
The 5 Best Pub Crawls in Istanbul
The 5 Best Pub Crawls in Istanbul
1. Istanbul: Party Pub Crawl with Party Bus
Looking for a unique and unforgettable night out in Istanbul? Look no further than this Top Rated Party Tour! Join a group of young party-goers from all around the world and get ready to party for at least 6 hours straight.
The night begins with some fun and ice-breaking drinking games at the meeting bar before moving onto the Party Bus. Here you'll have a chance to enjoy some Raki and cocktail shots as you dance and make your way to the three hidden rooftop party spots of the city. With VIP entrance to all venues, you won't have to wait in line to experience the best of Istanbul's nightlife scene.
Throughout the night, the party hosts ensure that the atmosphere is always on fire while also keeping your safety in mind. The pub crawl ends at Taksim in the last club around 3.30 am, but the team is happy to help you arrange an Uber or taxi to get home safely. Join Istanbul's Top Rated Party Tour for a night to remember!
2. Istanbul 7-Hour Pub Crawl: Big Night Out
Join an international crowd in Istanbul for the ultimate pub crawl any Wednesday, Friday or Saturday. Experience the best places to party and the craziest venues the city has to offer with this 7-hour tour. Meet at the meeting point and enjoy a free welcome beer before hitting up at least three of the top party spots in Istanbul. Your entrance fee is included for all locations visited. Our knowledgeable guide will take you to some hidden underground locations that only the locals know about. This pub crawl is different from the others as we ensure you skip the lines and get immediate entry to all locations visited. Don't miss out on the chance to party like the locals do in Istanbul!
3. Famous Istanbul Pub Crawl #1 Nightlife Experience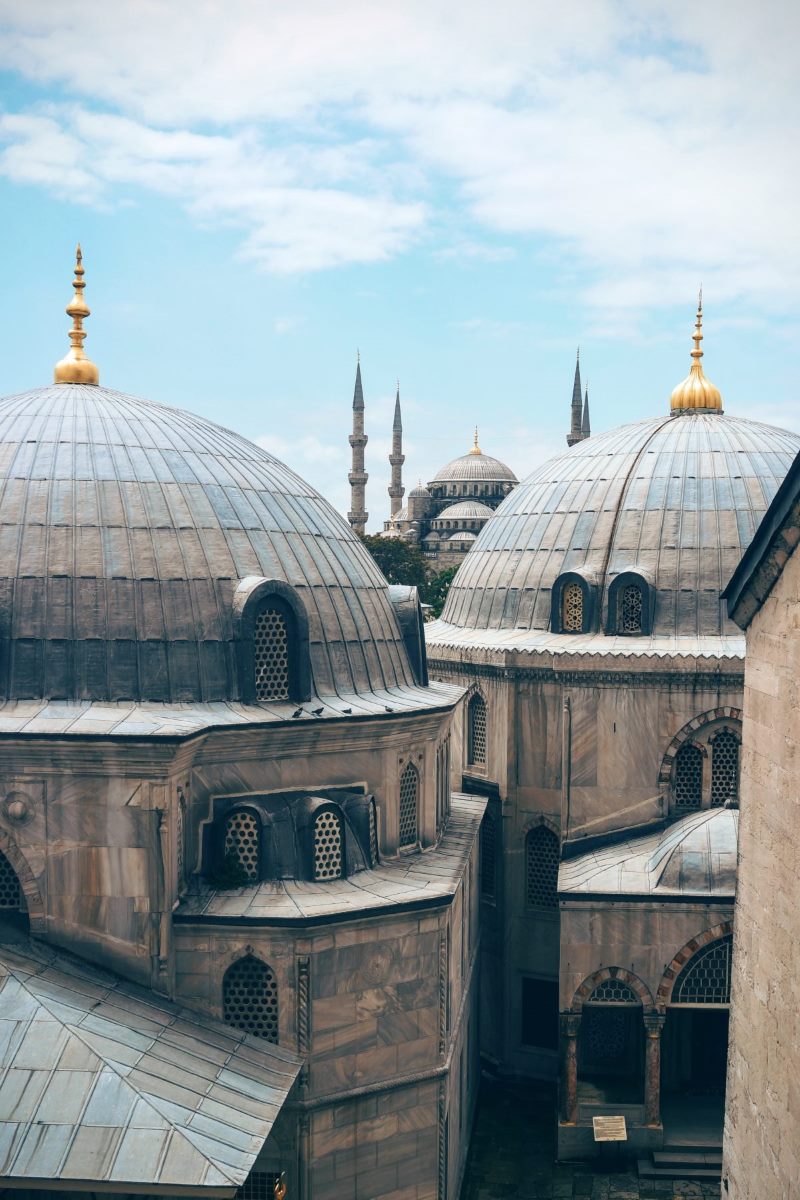 Are you ready to experience Istanbul's vibrant nightlife? Join this famous pub crawl for a night to remember!
The tour includes 2 beers and 4 welcome shots as well as free entry to 5 of the best party venues in the city. Meet at Rock N Rolla Bar at 09:30 PM and get ready to explore Istanbul's nightlife scene. The tour ends at BEAT in Beyoğlu at an unannounced time.
Please note that this tour is not wheelchair accessible and requires participants to have no serious medical conditions.
Cancellation is possible up to 24 hours in advance for a full refund. Any cancellations made less than 24 hours before the start time of the tour are non-refundable.
Don't miss out on the chance to experience Istanbul's nightlife scene like a local!
4. #1 Rated Istanbul Party Pub Crawl w Party Bus/Sultanahmet&Taksim
Experience the vibrant nightlife of Istanbul on this top-rated pub crawl. The night is planned for you by an all women-owned and led tour company, so all you have to do is show up and let loose. The tour includes private transportation, VIP access to some of Istanbul's best bars and clubs, free drinks, and party photos to capture the memories. The meeting point is at the Istanbul Party Pub Crawl near Just Bar Sultanahmet, where the party bus will take you to three of the top-rated clubs. The tour ends at Taksim Square, where the last club is located. Say goodbye to the stress of planning a night out and join this lively pub crawl for a night to remember.
5. Istanbul Pub Crawl Big Nightout . Rooftop parties,party Bus & Nightlife
Experience Istanbul's legendary nightlife without any worries with an evening party tour that takes you bar-hopping around the city with a group of like-minded international travelers and local guides. This is the perfect opportunity to spend your Friday or Saturday night enjoying Istanbul's vibrant scenes, with admission included to at least three different venues. As you set off on the party bus, expect entertaining drinking games and other onboard entertainment to keep you hyped. From rooftop parties to popular nightlife spots and trendy bars known only to locals, prepare to party all night long. The tour also includes welcome shots at each venue, making for an unforgettable experience. The meeting point is at Galata Kulesi Sk. No:4, and the tour ends at İstiklal Cd. No:117. This tour includes an air-conditioned vehicle and alcoholic beverages. Join up, make new friends, and have a wild night out!
Frequently Asked Questions About Istanbul
Introduction
Istanbul is a beautiful city that straddles the continents of Asia and Europe. Its rich cultural heritage, stunning architecture, and world-renowned cuisine make it a popular destination for travelers. As with any city, visitors have many questions before they arrive. In this article, we'll answer some of the most frequent questions about Istanbul.
1. What is the best time to visit Istanbul?
The best time to visit Istanbul is during the shoulder seasons of spring (March to May) and fall (September to November). The weather during these months is mild and comfortable with fewer crowds. Summer (June to August) can be extremely hot and crowded, while winter (December to February) can be rainy and cold.
2. Do I need a visa to visit Istanbul?
Yes, visitors need a visa to enter Turkey. You can apply for an e-Visa online before your trip, which is valid for 180 days and allows for multiple entries. Alternatively, you can get a visa on arrival at the airport, but this can take longer and may be subject to delays.
3. What currency is used in Istanbul?
The currency used in Istanbul is the Turkish lira (TRY). You can exchange money at the airport, banks, or exchange offices throughout the city. Credit cards are widely accepted, but it's always a good idea to carry some cash for smaller purchases.
4. What language is spoken in Istanbul?
The official language of Turkey is Turkish, but English is widely spoken in Istanbul, especially in tourist areas. Many locals also speak German, French, and other European languages.
5. What should I wear when visiting Istanbul?
Istanbul is a modern and cosmopolitan city, but it's still a good idea to dress conservatively, especially when visiting mosques or other religious sites. Women should cover their heads, arms, and legs, while men should avoid wearing shorts. Comfortable and sturdy shoes are also recommended since Istanbul is a hilly city with many cobblestone streets.
6. Is Istanbul safe for tourists?
Yes, Istanbul is a safe city for tourists. However, like any big city, visitors should take precautions to stay safe, such as avoiding dark and deserted areas at night, not carrying large sums of cash, and being aware of pickpockets in crowded areas.
7. What are some must-see attractions in Istanbul?
Istanbul has many must-see attractions, but some of the most popular include:
The Blue Mosque
Hagia Sophia
Topkapi Palace
The Grand Bazaar
The Spice Bazaar
The Bosphorus
8. What is the public transportation system like in Istanbul?
Istanbul has an extensive public transportation system that includes buses, trains, ferries, and the metro. The Istanbulkart is a rechargeable card that can be used on all modes of transportation and is a convenient way to get around the city.
9. Can I drink the tap water in Istanbul?
It's not recommended to drink the tap water in Istanbul. Bottled water is widely available and is a better option.
10. What is the local cuisine like in Istanbul?
Istanbul is known for its delicious cuisine, which combines flavors from both Asia and Europe. Some popular dishes include kebabs, meze (small appetizers), Turkish coffee, and baklava (a sweet pastry). It's also worth trying some street food, such as simit (a type of sesame-covered bread) and döner kebab (a sandwich made with meat cooked on a vertical spit).
Conclusion
Istanbul is a fascinating and beautiful city with a unique blend of cultures and traditions. By answering some of the most frequently asked questions about Istanbul, we hope to help visitors plan their trip and make the most of their time in this incredible city. Remember to dress conservatively, stay safe, and try the local cuisine – you won't be disappointed!
The 5 Best Pub Crawls in Istanbul: FAQs
Istanbul is a city with a vibrant nightlife, featuring pubs that cater to all types of people. Are you planning to go on a pub crawl with some friends in Istanbul? Here are some frequently asked questions concerning the best pub crawls in this city that you may want to know.
1. What is a Pub Crawl?
A pub crawl is a popular recreational activity that involves visiting a series of drinking establishments, bars, and pubs in one night. It is usually done with a group of people, where participants move from one bar to the next, drinking and socializing along the way.
2. Are Pub Crawls Safe in Istanbul?
As with any other city, there are always some risks associated with going out drinking at night. However, as long as you practice common sense and take known precautions, there is no reason why your pub crawl in Istanbul should be any less safe than any other city.
Here are some tips for safely enjoying your pub crawl experience in Istanbul:
Always stay with your friends and do not wander off alone.

Keep your personal belongings close to you and avoid displaying valuables.

Pay attention to your surroundings, and if possible, avoid isolated areas.

Avoid getting too drunk, as it can make you vulnerable to criminal activity.

Lastly, make sure to take a taxi or use public transport to get back safely to your accommodation.
3. Where are the Best Pub Crawls in Istanbul?
Istanbul has a wide range of pubs and bars spread across the city, so choosing the best area for your pub crawl may depend on what type of atmosphere you are looking for.
Here are the five best pub crawls in Istanbul, with a short description to help you choose:
1. Beyoglu Bar District
The Beyoglu district is one of the most popular areas for bar hopping in Istanbul. The streets of Istiklal and Nevizade are lined with numerous bars, restaurants, and pubs that cater to all kinds of people. This area is popular amongst the younger crowd and hosts many party events throughout the year.
2. Kadikoy Pub Crawl
The Kadikoy area, located on the Asian side of Istanbul, has recently become a popular destination for pub crawls. The area hosts a large variety of bars, pubs, and live music venues that cater to all interests.
3. Nisantasi Bar Hopping
The Nisantasi district is known for its trendy bars, nightclubs, and lounges. The atmosphere is more upscale, with many high-end bars and restaurants in the area. If you are looking for a more luxurious night out, then the Nisantasi area is the perfect location for you.
4. Ortakoy Pub Crawl
Ortakoy is a picturesque urban district that is popular for its artisan shops, cafes, and restaurants. This area is also home to many pubs and bars, with a laid-back atmosphere that is perfect for a relaxed night out.
5. Karakoy District Pub Crawl
The Karakoy district, located on the European side of Istanbul, is known for its trendy bars and artisan cafes. This area is popular with the younger crowd who are looking for a more alternative nightlife experience.
4. Can You do Self-Guided Pub Crawls in Istanbul?
Yes, you can do self-guided pub crawls in Istanbul. With its vast array of bars, pubs, and nightclubs, searching for the perfect place to spend the night can be both fun and exciting.
However, since it is easy to get lost in the city, it is best to plan your route in advance or join a pub crawl tour with local guides who know the area.
5. How Much Does a Pub Crawl Cost in Istanbul?
The cost of a pub crawl in Istanbul depends on various factors such as the location, number of bars to visit and the type of drinks you prefer. On average, a pub crawl in Istanbul costs around $25-30 per person, but this cost may vary depending on your preferences.
In addition, joining a guided pub crawl tour may add extra costs, but it can also provide you with a more organized and safer experience.
Share This Article with Your Friends
If you found this article helpful, your friends might appreciate it too. Click on any of the social share buttons below to share it with them and spread the knowledge.