Brussels, the capital city of Belgium, is a hub for culture, politics, and business. But it's not just about that. It's also home to some of the most stunning attractions that are worth exploring by any tourist. The city is a melting pot of art, architecture, history, and gastronomy, making it a must-visit destination for travelers of all interests. Whether you're a history buff, a foodie or a fan of contemporary art, Brussels has something for everyone. In this post, we'll explore the best attractions and things to do in Brussels that you shouldn't miss on your next trip.
The 21 Best Things You Have To Do In Brussels
The 21 Best Things You Have To Do In Brussels
1. Architecture Tour of Brussels
Learn about Brussels architecture as you tour the city with a local architect and guide. You'll see how the city's architecture has evolved over the past five centuries as you visit highlights such as the Grande Place, Les Galeries Royales Saint-Hubert, the Place De Brouckereplein and Notre Dame du Sablon, finishing your tour up with a visit to Mont des Arts to take in panoramic views of the city. This group tour includes a professional and local guide, as well as transport. The meeting point is at Godiva Grand Place, right in front of Godiva chocolate shop where your guide will be waiting for you. The tour starts at 08:00 PM and ends back at the meeting point. Along the way, you'll have the opportunity to take photos from a viewpoint at Mont des Arts and meet fellow travelers. Don't miss this chance to visit top attractions and learn about their history with a knowledgeable guide.
2. Tell Me About Brussels Perfect Introduction Paywhatyouwant With Booking Fee
Explore the best of Brussels on foot with a professional English-speaking guide. This walking tour covers some of the top attractions in the city, offering insights into Belgian history and culture. With the pay-what-you-want system, you only need to pay the Viator booking fee in advance, and you can tip your guide based on your level of satisfaction. The group size is capped at 20 travelers to ensure a more personalized experience. The tour starts at Grand Place, where you'll find your guide holding a yellow umbrella with "Ambassadors" on it. The endpoint is at Mont des Arts, just a few minutes walking distance from the starting point. The first attraction on the itinerary is the Manneken Pis, where you'll spend around ten minutes. Join this informative and engaging tour and discover the best of Brussels.
3. Private Tour Ghent and Bruges from Brussels Full Day
Explore two of the most charming cities in Belgium on this Private Tour Ghent and Bruges from Brussels Full Day. Get picked up from your hotel in Brussels and head to the lovely city of Bruges, also known as the Venice of the North. Follow your local guide as you learn about the city's rich history and architecture. Visit the magnificent Belfry Tower, enjoy a boat trip along the canals, and explore the city center before heading to the medieval city of Ghent.

In Ghent, marvel at the city's impressive medieval architecture including the Castle of the Counts of Flanders and St. Bavo's Cathedral where you can see the fantastic altarpiece "The Adoration of the Mystic Lamb" by the Van Eyck brothers. Customize the tour with your guide to make the most of your day trip. Then, relax and enjoy the ride back to your hotel in Brussels. This full-day tour includes transportation, entrance fees, lunch, bottled water, and a professional guide.
4. Brussels Full Day Antwerp and Ghent Guided Tour
Experience the best of Antwerp and Ghent with a full-day guided tour from Brussels. With a professional guide, explore the top sights of Antwerp including the Meat Market, Steen Castle, Town Hall Square, the Gothic-style Church of Our Lady, the Church of San Carlos de Borromeo, the Walk of the Cakes, and the beautiful Meir Street. After the guided tour, enjoy an hour of free time to explore Antwerp on your own.

Next, head to the powerful city of Ghent and visit the Cathedral of San Bavón, which contains the famous painting of the Van Eyck brothers, the Adoration of the Mystic Lamb. You will also visit an artisanal diamond workshop and learn about the process of cutting diamonds. Throughout the tour, your guide will provide insightful commentary to enhance your experience. Book this tour and make the most of your time in Brussels with a full-day Antwerp and Ghent guided tour.
5. Train World the History of the Belgian Railways
Access one of the most enchanting museums in Brussels with an entrance ticket to Train World. Located in the old Schaerbeek rail station building, the museum opened in September 2015 and boasts over 8000 square meters of space. The tour lets you experience the journey back to the days of the railway pioneers, where you can stroll around the fabulous Schaerbeek station, one of the oldest railway buildings in Belgium. You will see 5 steam engines and authentic railway cottages in an original setting, making your experience even more remarkable. Benefit from a free downloadable Train World app to make the most of your visit. Once inside the museum, explore independently and see highlights such as the 19th-century "Pays de Waes" locomotive, the oldest preserved locomotive in continental Europe. Head to the on-site restaurant when you need a break or to enjoy lunch before or after your visit. Experience the warm hospitality of the restaurant and brewery "RN Express" and dine in a unique environment. The entrance ticket for the Train World museum is included in this tour.
6. Private Tour Traditional Holland and Amsterdam City Tour from Brussels Full Day
See the iconic windmills and tulips of the Holland countryside and explore the vibrant city of Amsterdam all in one day on this private tour from Brussels. With a professional guide and air-conditioned vehicle, you can see more than you could on your own, including local arts and crafts pottery, traditional handmade wooden clogs, and farmhouse cheeses. You'll also have unique access to a Dutch farmstead and dairy. In Amsterdam, choose what to do, and visit popular attractions like Dam Square and Amsterdam Palace. An optional canal boat trip in the center of Amsterdam is also available. The tour includes bottled water, entrance fees, and lunch. Pickup is available from your accommodation in Brussels. Confirmation will be received at the time of booking, and infant seats are available if needed. This tour is perfect for travelers on a tight schedule who want to experience the highlights of Holland and Amsterdam in one day.
7. From Brussels Ghent and Bruges Day Tour
Discover the enchanting cities of Ghent and Bruges on a day tour starting from Brussels! Take in the majestic beauty of Saint Bavo Cathedral and explore St. Nicholas' Church, a relic of the Middle Ages. Imagine what it was like to live as a king at Earl's Castle and gaze upon the Lake of Love and the Beguinage. Treasure the inherent beauty of Our Lady's Church and Michelangelo's Madonna. Follow your professional and multilingual guide on this walking tour and discover the highlights of both cities. And if you're interested, you can add on an optional boat cruise during the tour. Transportation to all destinations is included in the tour package. Book now and experience the charm of Flanders!
8. Guided Tour in Bruges and Ghent in One Day
Explore the stunning beauty of two Flemish cities in one day on this guided trip. Begin by meeting your guide in the center of Brussels and enjoying a comfortable journey to Bruges. Upon arrival, discover the charm of "the Venice of the North" with highlights like the Lake of Love and the 13th-century Begijnhof complex. Relax at Walplein Square before heading to Ghent to visit the majestic Saint Bavo Cathedral and other historical gems. This tour includes transportation to all destinations, a Spanish and English-speaking guide, walking tours in both Bruges and Ghent, a fleet of eco-friendly and comfortable buses, a radio system, and more. Don't miss this unique opportunity to experience two of Belgium's most beautiful cities in one day.
9. Brussels Discover Belgium S Breweries With a Local
Start your day off on the right foot and join the locals in tasting local sweet delicacies in combination with beer. Learn about the traditional beer histories, and get the best customized high-quality beer selection with our Brussels Discover Belgium's Breweries With a Local tour. Visit a variety of venues including the oldest or newest brewery in town, and participate in an original beer game that will guarantee a great time. Begin the excitement with a trip to one of the city's most popular chocolate stores before diving into the world of delicious Belgian beer. Along the way, discover some of Belgium's proud brewing traditions and find out some of the secrets behind its wide range of delicious beers. Meet your friendly guide and group at the designated meeting point and get ready to embark on an unforgettable journey exploring some of Brussels' best kept beer secrets.
10. Ghent and Bruges Day Trip from Brussels
Immerse yourself in the medieval majesty and historical heritage of Ghent and Bruges with a full-day tour from Brussels. A knowledgeable guide will accompany you through the UNESCO-listed city of Ghent where you'll visit landmarks such as St. Bavo's Cathedral, the Castle of the Counts of Flanders, and the picturesque old port. After that, you'll take a scenic drive through the Belgian and Flemish countryside to the iconic city of Bruges. Here, you'll stroll along the quaint cobbled streets to Market Square, explore romantic Minnewater (Lake of Love), and soak up the sacred ambiance of the Basilica of the Holy Blood, amongst other things. Don't miss the opportunity to embark on this comprehensive tour of two stunning historical cities.
11. Amsterdam from Brussels En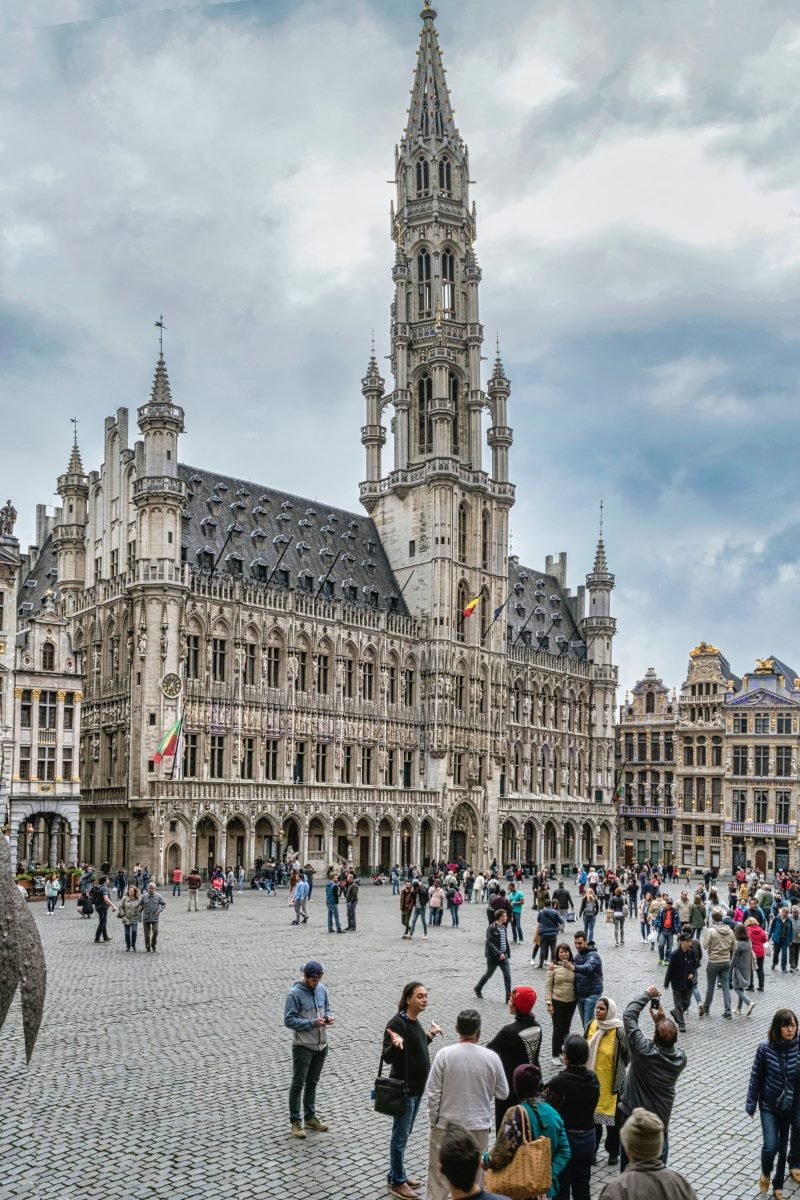 Cover the highlights of colorful history-packed Amsterdam during this full-day tour departing from Brussels. Explore 13th-century Dam Square and the charming area of Waag while learning about Amsterdam's centuries of history from a professional English-speaking guide. Enjoy hours of uninterrupted leisure time to explore Amsterdam at your own pace, taking advantage of discounts at restaurants, chocolate shops, and museums. Convenient round trip transportation by bus with A/C and gratuities are included. Meet your group at Brussel-Centraal and depart from Carrefour de l'Europe square under the columns.
12. Brussels Guided Walking Tour
Get ready for an immersive experience of the Belgian capital with a Brussels Guided Walking Tour. This well-planned tour guides you through the historical center of Brussels and takes you on a journey from the medieval and Baroque city to the modern-day Brussels. Explore the different facets of Brussels with the help of an informative guide who will take you to see the city's main attractions.

As you stroll through the city on this walking tour, enjoy a tasting of traditional Belgian chocolates from a local chocolatier. Also, this tour includes tram or bus tickets and tickets to museums, making it convenient for you to visit all the must-see places.

With this tour, you'll get to know Brussels in greater depth and have insider info on its landmarks, culture, and history. All in all, it's a fantastic way to see Brussels and experience its charm, so book now and let the adventure begin!
13. Brussels Highlights and Hidden Gems Tour
Explore the best of Brussels with a private tour tailored to your interests and needs. With a knowledgeable local guide, discover the top landmarks of the city along with its hidden gems hidden away from the crowded tourist paths. Learn about the history and culture of this vibrant city from a local perspective and experience the local taste with a drink or snack beloved by locals included. The tour is perfect for travelers short on time and is offered at multiple times for an easy experience. Hotel pick-up and drop-off are also included. However, entrance fees for attractions are not included in the package, but we will visit them from the outside. Meet your local guide in front of Cafe A at Rue du Marché aux Poulets 12 to get started on this unique adventure in Brussels.
14. Antwerp and Ghent Bus Day Trip
Looking for an exciting way to explore two cities of Belgium in a single day? Look no further than this Antwerp and Ghent Bus Day Trip, which takes you on a convenient and hassle-free journey from Brussels. Explore the stunning architecture and history of Antwerp by visiting the Cathedral of Our Lady and the Town Hall, among other landmarks. Then head to Ghent to see the Castle of Gerald the Devil, the Ghent Belfry, the Old Fish Market, and more. This tour also provides ample free time to explore on your own, while a professional English-speaking guide offers recommendations and city tips. Round-trip transit is included via comfortable coach, so all you have to do is sit back, relax, and take in the sights. Book this tour today and make memories that will last a lifetime!
15. Bus Day Trip to Brugge and Ghent from Brussels in English
This day trip offers the chance to visit two of Belgium's most beautiful cities, Bruges and Ghent, both of which are UNESCO-listed. With hassle-free round-trip transport from central Brussels, this guided tour takes you to explore top attractions like Saint Bavo Cathedral and Walplein Square with ease. During the guided walking tours, you will gain insight into the history and heritage of Bruges and Ghent from a professional English-speaking tour guide. Food and drinks, museum entrance, and headphones are also included. The meeting point is at Brussel-Centraal, Carrefour de l'Europe square, under the columns of the main entrance.
16. Brussels to Amsterdam Full Day Trip
Explore the charming city of Amsterdam in a day with a full-day tour from Brussels. An English or Spanish-speaking guide will accompany you as you uncover the city's rich history, visit top landmarks like the Royal Palace and the Nieuwe Kerk, and explore the Jewish Quarter. Take a visit to De Waag to see the remains of the old medieval walls. You'll travel comfortably and in style in a climate-controlled bus from a centrally located meeting point. The tour includes a city map and recommendations, round-trip bus transfer, entrance tickets, lunch, and a business discount at restaurants and chocolatiers. Join us for an unforgettable day trip to Amsterdam.
17. Antwerp Day Trip from Brussels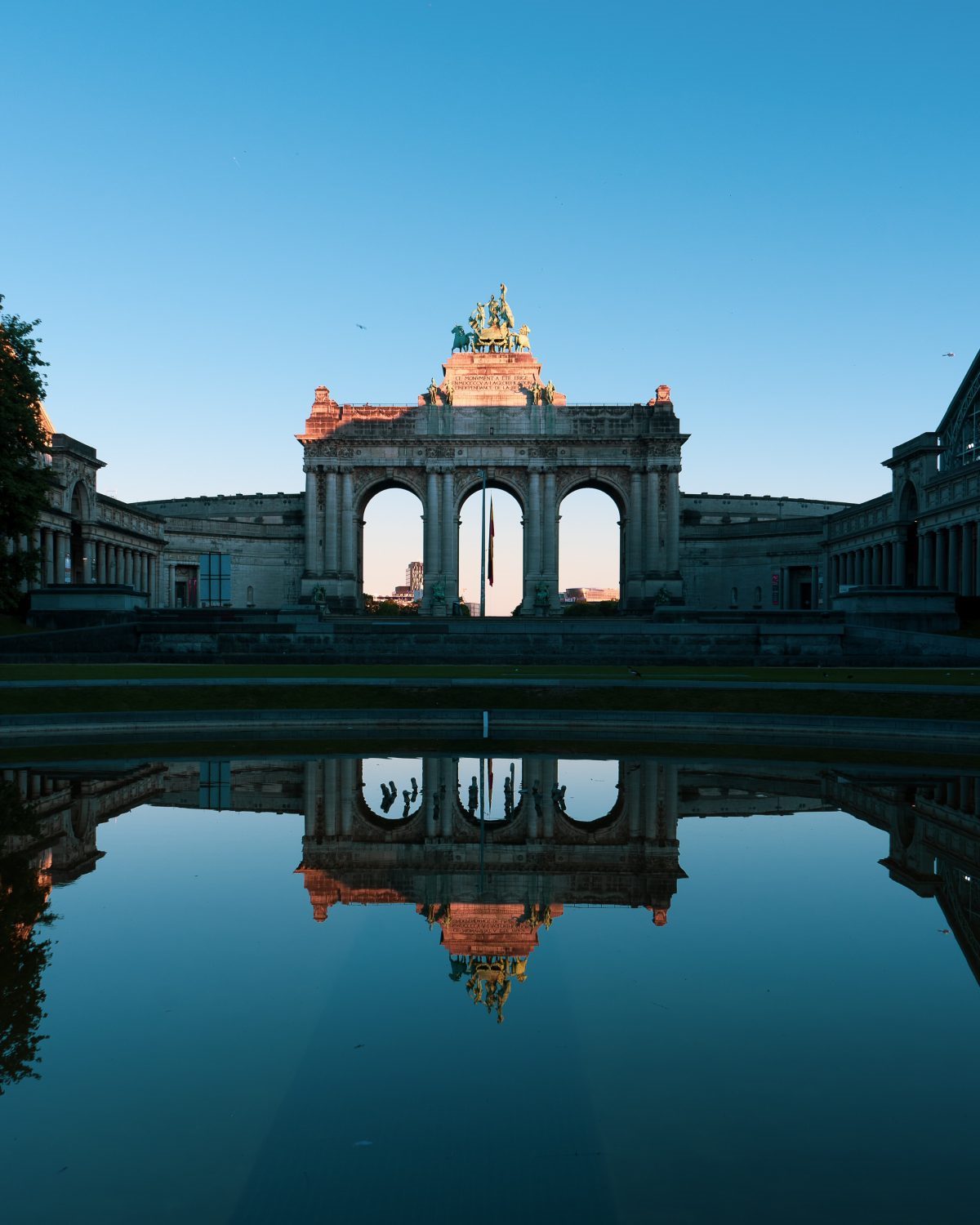 Embark on a day trip to Antwerp, Belgium's diamond and fashion capital city, on a journey that takes you to one of the most beautiful railway stations in the world, the Central Train Station, also known as the 'iron cathedral'. With a local guide, you will explore the diamond and jewelry district and the Portuguese synagogue while discovering the rich architectural heritage of the city of Antwerp. This day trip includes entry fees to attractions, round-trip by train journey, and food and drinks. Marvel at the sights of Antwerp, home to Peter Paul Rubens and Europe's second biggest port, and experience the best of Belgium's culture and history.
18. Brussels Card 24 48 or 72 Hour Public Transport Stib
Save time and money on your trip to Brussels with the Brussels Card. Choose between a 24, 48, or 72-hour card and enjoy free access to 49 museums in the city. Take advantage of discounts on various tourist attractions and tours, as well as exclusive offers in restaurants, bars, and shops. With your card, you can also enjoy free use of the public transportation system (STIB) during the validity of your card. Simply present your card at the participating venues and it will be validated electronically on first use. Don't miss out on this great opportunity to explore Brussels with ease and at your own pace.
19. Brussels Card 24 48 or 72 Hour Card
Choose from a 24, 48 or 72 hour option and gain access to popular museums and attractions in Brussels with the Brussels Card. Enjoy free entry to 49 museums, including all highlights, and benefit from discounts on various attractions, tours, shops, restaurants, and bars. With this easy-to-use card, you can visit the same museum multiple times. Although most temporary exhibitions are included, some exceptions apply. After exchanging your voucher, you'll be provided with a booklet containing vouchers for one-time use discounts. Simply present the Brussels Card and the corresponding voucher to obtain your discount. Valid even after the card has expired, the Brussels Card is your passport to the best attractions in Brussels.
20. Brussels Clue Solving City Exploration Game
Play detective for the day and enjoy a top-secret mission to explore the picturesque sights of Brussels with this unique clue-solving city exploration game. Solve challenges on your phone with friends and family and unlock directions to your next location while admiring the city's most incredible spots. Along the way, learn fascinating stories about the city as you explore its highlights and enjoy stunning views of Brussels from the Poelaert viewpoint. This tour includes a city exploration game available on your phone, round-the-clock customer support, and a tour guide. Please note that this tour is not suitable for wheelchair users.
21. Amsterdam Day Trip from Brussels
Witness the winding waterways and beautiful architecture of Holland's picturesque capital on a full-day trip to Amsterdam from Brussels. Take a scenic drive through Belgium and Holland's windmill country and stop at the typical windmill village of Kinderdijk to get a close-up view of Dutch windmills. Once in Amsterdam immerse yourself in the quaint canals, cobbled streets and ambient squares of the city. Customize your itinerary according to your interests and enjoy leisurely independent exploration of the city on arrival. Marvel at top city attractions such as Dam Square, the Royal Palace of Amsterdam and the Anne Frank House. Additionally, you have the option to experience a 75-minute canal cruise (optional and not included in price) in order to see the city from an alternative perspective. The tour includes air-conditioned v transport for your comfort.
The Most Frequently Asked Questions About Brussels
Brussels, the capital of Belgium, is a beautiful city with a rich history, stunning architecture, mouth-watering cuisine, and world-renowned museums. It has become a popular tourist destination over the years, attracting millions of visitors from around the world.However, no matter how beautiful a city is, there will always be questions that tourists have. To make your trip to Brussels a little easier, we have compiled a list of the most frequently asked questions by tourists in Brussels.
1. What is the best time to visit Brussels?
Brussels, like most European cities, experiences four seasons. The best time to visit Brussels is during the summer months, from June to August, when the temperature is warm, and the skies are clear, making it perfect for walking and exploring the city. However, this is also the peak tourist season, so expect large crowds and higher prices.Another good time to visit Brussels is during the shoulder season, which is from April to May and September to November. During this time, the crowds are thinner, and the prices are lower, making it ideal for budget travelers.
2. What should I wear in Brussels?
The clothing style in Brussels is generally casual and laid back, with most people wearing jeans or trousers and comfortable shoes. However, it is essential to dress appropriately when visiting religious sites, such as churches or mosques. If you plan on visiting some of the high-end restaurants or clubs, a smart dress is necessary, as most require a dress code. Additionally, it is always good to carry a raincoat since Brussels is known for its unpredictable weather.
3. What are some must-see attractions in Brussels?
Brussels has many fantastic attractions, making it difficult to choose just a few. However, we recommend the following must-see attractions when in Brussels:
Grand Place
The Grand Place, located in the heart of Brussels, is a UNESCO World Heritage site and is one of the most beautiful squares in Europe. It is known for its stunning architecture, including the famous Brussels Town Hall and the King's House.
Atomium
The Atomium, a landmark building in Brussels, is a symbol of the city and is known as one of the most impressive buildings in Europe. It was built in 1958 for the World Fair and is a representation of an iron molecule enlarged 165 billion times.
Manneken Pis
Manneken Pis, a bronze statue of a little boy peeing, is one of the most famous landmarks in Brussels. The statue has become an icon of the city and attracts millions of visitors every year.
4. What is the currency used in Brussels?
Belgium's official currency is Euro, and it is widely accepted throughout the country. ATMs are readily available and accessible, and most shops and restaurants accept credit and debit cards.
5. Is it easy to get around Brussels?
Brussels is a relatively small city, and most of the attractions are within walking distance from one another. However, the city also has an extensive public transportation system, including buses, trams, and the metro. Travelers can purchase a "Brussels Card," which provides unlimited access to public transport and discounts at various attractions.
6. What is the local cuisine in Brussels?
Belgium is known for its delicious food, and Brussels is no exception. Some of the local dishes to try when in Brussels include:
Moules-frites
Moules-frites, or mussels and fries, is a popular dish in Brussels and can be found in most restaurants. The mussels are cooked in a white wine broth and served with crispy fries.
Waffles
Belgian waffles are famous all over the world, and Brussels has some of the best. The waffles are served warm and can be topped with whipped cream, chocolate, strawberries, or any other topping of your choice.
Speculoos
Speculoos, a biscuit made with cinnamon and brown sugar, is a unique delicacy of Brussels. The biscuits are perfect with coffee or tea and can be found in most local bakeries.
7. What language do people speak in Brussels?
Brussels is a bilingual city, and both French and Dutch are the official languages. Most locals speak both languages fluently, and English is also widely spoken throughout the city.
8. Is Brussels a safe city?
Brussels is a relatively safe city, but as with any major city, visitors should take basic safety precautions, such as staying in well-lit areas, watching their belongings, and avoiding empty streets at night.
9. What is the tipping etiquette in Brussels?
Tipping in Brussels is not mandatory, as most restaurants include a service charge on the bill. However, it is customary to leave a small tip, especially for exceptional service.
10. What is the nightlife like in Brussels?
Brussels has a vibrant nightlife, with plenty of bars, clubs, and pubs to choose from. Some of the popular areas for nightlife include Rue des Bouchers, Place St. Gery, and Place Flagey.
How to Spend Your Time as a Tourist in BrusselsBrussels, the capital of Belgium, is a charming and vibrant city with a rich history and culture. From the stunning architecture to the delicious Belgian chocolates, Brussels has much to offer for tourists of all ages. In this guide, we will give you some tips on how to spend your time as a tourist in Brussels and make the most of your visit.1. Visit the Grand PlaceThe Grand Place in Brussels is a UNESCO World Heritage Site and one of the most beautiful town squares in Europe. The square is surrounded by magnificent buildings, including the Gothic-style Town Hall, guildhalls, and the Museum of the City of Brussels. Be sure to visit the square at dawn or dusk when its beauty is enhanced by the golden light. 2. Explore the Royal Palace of BrusselsThe Royal Palace of Brussels is the official residence of the Belgian royal family. The palace is only open to visitors from July to September, but it's worth the wait. The palace consists of beautiful gardens, galleries of paintings, sculptures, and furniture, and the Mirror Room which is covered in mirrors from floor to ceiling. 3. Visit Manneken PisManneken Pis, the iconic statue of a small boy peeing, is a popular tourist attraction in Brussels. The statue is located in the city center and has been stealing hearts since the 17th century. The statue is dressed in unique and quirky costumes several times a week, so be sure to check the schedule to see the statue in its latest attire.4. Try Belgian Waffles and ChocolatesBelgian waffles and chocolates are world-famous and a must-try when in Brussels. You can find them in several street vendors or specialized stores around the city. Belgian waffles are typically served with a wide range of toppings, including chocolate, fruit, cream, and syrup. Belgian chocolates come in various shapes, sizes, and flavors and are perfect for a souvenir for family or friends back home.5. Visit the AtomiumThe Atomium is a striking building with giant metal spheres that represent atoms. The building was created for the 1958 World Expo and is now a popular attraction in Brussels. The Atomium has several levels of exhibitions and walks, including a restaurant at 100 meters high. From the top, you can enjoy a beautiful panoramic view of the city.6. Check out the Comic Strip CenterBelgium is known for its fantastic comic books, including the famous Tintin series. The Comic Strip Center in Brussels is a museum dedicated to the Belgian comic book art. The museum showcases the history of comics in Belgium and the famous series created by Belgian artists.7. Take a Walk Through the Royal Greenhouses of LaekenThe Royal Greenhouses of Laeken is a vast complex of greenhouses that are usually open to the public in spring. The greenhouses are the property of the Belgian Royal family and are home to some of the most beautiful plants and flowers from around the world. The greenhouses also have a fantastic collection of rare and exotic plants.Book Your Tour NowBrussels is a city of vibrant culture, delicious food, and awe-inspiring architecture. We hope this guide has given you some ideas on how to spend your time as a tourist in Brussels. From the stunning Grand Place to the world-famous Belgian chocolate, there is something for everyone in Brussels. Don't be afraid to explore and discover your own favorite spots in the city. Enjoy your trip!